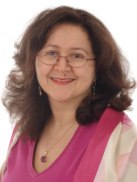 Profile
Sandra gained a BSc (Hons) in Physics from Manchester University, United Kingdom, and after a successful career in computing, discovered her passion for true physical, emotional and spiritual health.
She trained first as a Master Herbalist, which led her to the study of the emergent field of Energy Psychology in 2000, where she qualified first as a practitioner, then a trainer, and finally as a master trainer. Following her intensive work in private practice and having introduced thousands of people worldwide to the new concepts of energy and health, Sandra Hillawi is now being recognised as major contributor, driving force and acclaimed speaker, teacher and coach. The Love Clinic (DragonRising) was her first published work, expressing her heartfelt passion and desire to help people discover how to use the latest approaches to working with human mind, body and emotion so they can hurt less, love more and love better.
Sandra offers EFT and EmoTrance healing and personal development session, runs live training courses, web conference training plus healing retreats in the UK and Egypt.
Qualifications
EFT Master Practitioner
EmoTrance Advanced Practitioner
Professional Energist
Meridian & Energy Therapy Advanced Practitioner, including EFT Practitioner Level 3
Trainer of Meridian & Energy Therapies
Trainer Trainer