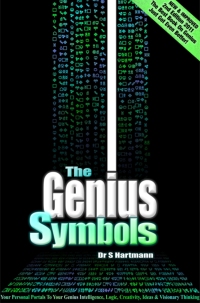 There will never be boredom in your life again!

Kerstin Warkentin, Germany

Silvia has created 23 symbols, from which I have made a laminated card deck of to my pleasure. At the beginning I formulate a contract with my Energy Mind, what I want to solve. I begin a way with the symbols provided by Silvia, which forms the base of a story and I then draw a card after the other from my deck, dive into my own scenery and out of the blue fantastic thoughts and metaphors come from inside me and a solution arises. Everything flows easily and simply into each other. If I read through my story all over again, I am filled with enthusiasm and enraptured of my wealth of wisdom being inherent in me.

There are instructions add in the book, and everybody can use these symbols in various ways. And I say everybody, because I have already played these games with the symbols with my children as well as with friends who would not regarded themselves as possible to get inner pictures and creativity. And they all didn`t know about the symbols. Silvia has written some stories of her own which are incredible interesting and have these AHA -Moments. There are much more than 30 games to play with and game variantions on this, to let off doubts, to let off fears, and so on. Topics, like releasing blockades, healing relationships, allowing magic and miracles come to your life, allowing new ideas and other insights and and and more.

It is all around brilliant.

There will never be boredom in your life again

And sooo simple and easy !!

warmly brilliant thoughts

Kerstin Warkentin

**Original German Version**

Ich bin völlig baff über meine innere Kreativität. Durch und mit diesen Symbolen von Silvia komme ich in meine innerste Wahrheit. Mein Energy Mind erschafft Geschichten, die ich nie für möglich gehalten hätte. Und ich bin erst am Anfang und habe schon 2 Din A 4 Bücher mit meinen Stories vollgeschrieben. Mit diesen Geschichten erlebe ich einen kreativen und erstauntermassen logischen Prozess der Lösung von einem Konflikt. Am Ende einer Geschichte ist immer Frieden und Spass und Loslassen.

Es gibt 23 Symbole, die Silvia erschaffen hat, aus denen ich mir ein laminiertes Kartendeck gemacht habe. Am Anfang formuliere ich den Vertrag mit meinem Energy Mind, das was ich lösen will. Ich fange mit den von Silvia vorgegebenen Symbolen an, die die Basis einer Geshichte bilden und dann ziehe ich eine Karte nach der anderen aus meinem Deck, tauche ein in meine eigene Szenerie und aus mir heraus kommen fantastische Gedanken und Metaphern, und es entsteht eine Lösung. Alles fließt ineinander, leicht und einfach. Wenn ich meine Geschichte nochmals durchlese, bin ich begeistert und hingerissen von meiner mir innewohnenden Fülle an Weisheit.

Es gibt im Buch eine Anleitung dazu, auf welch vielfältige Art und Weise jeder diese Symbole einsetzen kann. Und ich sage jeder, weil ich dieses Spiel mit den Symbolen schon mit meinen Kindern gespielt habe, sowie mit Menschen, die die Symbole nicht kannten und trotzdem zu inneren Bildern und Kreativität gekomemn sind, die sie nicht für möglich gehalten hätten. Und dazu hat Silvia einige eigene Geschichten geschrieben, die unglaublich interessant sind. Und es gibt mehr als 30 Spiele und Spielvarianten dazu, vorgegebe Themen, wie Loslassen von Blockaden, Loslassen von Zweifeln, Loslassen von Ängsten, Heilen von Beziehungen, Zulassen von Magie und Wundern, Zulassen von neuen Ideen, Zulassen von anderen Sichtweisen und und und viel viel mehr.

Es ist rundherum genial.

Es wird nie wieder Langeweile im Leben geben!!

Und es ist sooo einfach!!

Kerstin Warkentin, Germany

I am completely flabbergasted about my inner creativity. Through and with these symbols created by Silvia I come into my innermost truth. My Energy Mind creates stories which I would never have regarded as possible. And I am only at the beginning and already have filled in A 4 books with my stories within 3 weeks With these stories I experience a creative and as well astonishing logical process of a solution of a conflict. At the end of each story is always peace and fun and releasing.