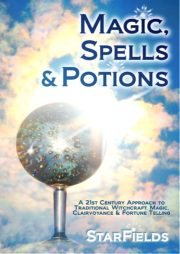 [Magic, Spells & Potions] is written in Dr. Hartmann's typical logical, step-by-step manner, with a touch of humor added in. I highly recommend it.
This book puts a whole new face on "magic". It is magic for modern people living today and does not consider old tales and versions of magic. It is excellent for people who are new to magic as well as for various practitioners of magic, who are open-minded and love trying out new approaches. I bought this book because I have read other books from this author and find her to be incredibly inspiring. She is able to come up with new approaches and ways of doing and saying things that make sense of the energy and magical aspects of life. This book is completely free of old concepts and ideas about magic and brings a refreshing new perspective on magic as a normal part of human potential.

Dr. Hartmann emphasizes how important it is to stay light and open when you work with magic. Be like a child and have fun with it, keep working at it and be delighted in it. She takes you right out of all the old... Read Full Review
Susan Weaver, Amazon USA Customer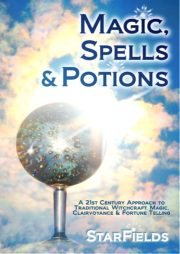 This is a bright, fresh, joyful and practical guide to magic, perfect for the 21st Century. When I first picked this book up I expected it to be full of spells, a recipe book for witches if you like. I could not have been more wrong...
Starfields introduces the ways of using magic in connection with the guides and angels we may already be working with in a fun and constructive way. You are given practical steps in which to gather the tools needed for any particular ritual. It is made very clear how using magic in everyday life you are able to help yourself and others with this very powerful tool.

I found this book both informative and inspirational from the first to the last page. If your idea of magic is a toothless, warty hag sitting with a cauldron conjuring up all manner of things and using questionable ingredients to do it, think again. I have learnt from reading this book that magic is a very powerful accessory to have at your disposal – it is fun, and can give very valuable help to those who ask for it.

If you are looking for a way of solving problems in your life, or the life of someone you know, get this book and follow the steps Starfields gives you. You never know it may just work.
Sandra Roberts, Paradigm Shift Magazine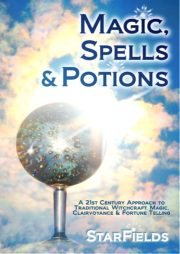 A Wonderful, Wonderful Book
This book is literally a breath of fresh air for all who love magic. Gone are the old fashioned horrors of hell fires & demons, and instead we have that wide eyed wonder, a childlike innocence as we get to explore our own magic for real - Finally! A wonderful, wonderful book, magic through and through.
StarHawk

StarFields has made magic light, fun & accessible to all!
A fantastic resource of common sense, down to earth magic that really works. In stripping away the dusty rituals of old, StarFields has made magic light, fun and accessible to all. A treasure trove of magic, spells & potions - this book is for you!
Nicola Quinn, Author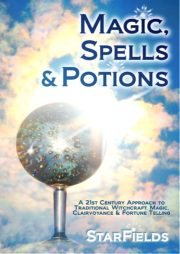 This book is easy to read and connect with on many levels.
Magic, Spells and potions, is reminding me of the beauty and joy of life. The magic which constantly surrounds each and everyone of us. This book is easy to read and connect with on many levels. a quote of mine is "Encouraging you to be the change you wish to see!" and this book does exactly that. Thank you.
Jacqui Stevens, 2009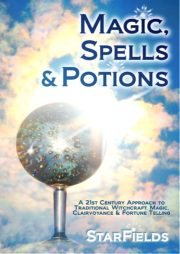 A down to earth practical approach to Magic!
My background is in experimental physics, and I am therefore a skeptic by nature, especially when it comes to magical effects. I came to magic via Donal Tysons Portable Magic, using the Tarot as a symbolic altar and circle, then through Druidry, using elemental symbolism in rituals.

What struck me first about Magic, Spells and Potions is the down to earth practical approach that is devoid of any religious or moral undertones. Silvia Hartmann offers a set of symbols, teaches how to use them for magical purposes and that is it!

The introduction manages nicely to relate where the symbols come from, and where they fall in besides the older symbolic systems, such as runes. Then section by section the reader is lead to using those symbols in magical workings, through spells, potions and other techniques. The approach is well explained, and (my scientific mind cries triumph) the... Read Full Review
Dr Markus Schulte, United Kingdom