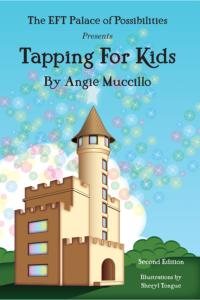 This is a Great way for Children to learn EFT. Well illustrated and easy to follow.
karen, Amazon.co.uk Customer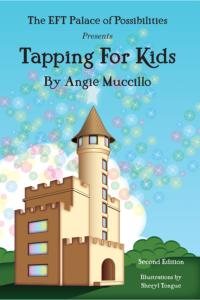 Tapping for Kids by Angie Muccillo is an excellent resource, explaining EFT in a very clear, concise and entertaining way for children, teachers and parents alike.
I am a Certified EFT Practitioner and have been practicing EFT for about 7 years. This book is an excellent resource, explaining EFT in a very clear, concise and entertaining way for children, teachers and parents alike. It's a great book to have laying on the coffee table as a gentle reminder or a nice introduction to a very effective healing modality.
Carol "Noeticae" Amazon.com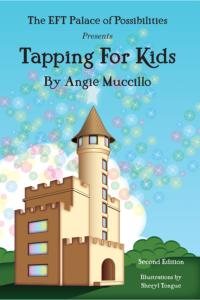 As an ex-teacher, I know how difficult it can be to teach esoteric subjects to children. This little book just makes it that bit easier!
Australian Energy Therapies Trainer, Angie Muccillo, has put the power of EFT (Emotional Freedom Techniques) into the hands of children. In her first book she welcomes them to The Palace of Possibilities and introduces The TapMeister to guide them on their journey to banish their fears and concerns and build self-esteem. She has designed the book for parents, teachers and children to enjoy together, and has included useful pictures by Sheryl Tongue to demonstrate the techniques of Tapping.

She says that the word emotion, e-motion, is just 'energy in motion' and that energy gets stuck, instead of moving freely around the body. This is when tapping on The Meridian Points can be used to great effect, so that 'Chi' or life-energy, can once again flow easily through the body. She stresses that constant reinforcement of this simple technique can banish confusion, fear, sadness and anger, replacing... Read Full Review
Jane Stewart Adams, Paradigm Shift Magazine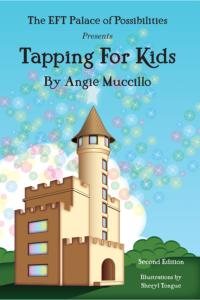 Tapping for kids inspired me and helped me to start an EFT workshop for kids in an elementary school last year.
It is explained clearly,the drawings are beautiful and even younger children can be taught tapping in a fun way.

Thank you Angie that through this fabulous book I found the courage to bring EFT into schools!
Adi Assodri, www.adieft.com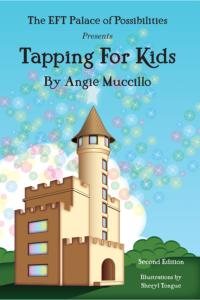 I love [Tapping for Kids]! It is so clear, so well illustrated, that it will make working with children much easier.
This book is the best for getting started and continuing EFT with children. Even though is says it is for older children, the techniques can be adapted for younger children.

Last Sunday, a HeartMath practitioner and I worked with 24 children ranging in ages from four to fourteen. We did EFT, using Tappy Bear, and we did a basic HeartMath warm heart, breathe, think of another way to do something technique. One child had had a bad scare with a dog earlier that morning, and she didn't want to come into the room because we had my canine ambassador dog with us. She had met this dog in prior work I had done with the children, and we quickly got her settled with EFT. She is very determined, however, to be afraid of dogs, and I need to work with her mother to get this to move forward.

Thanks for the book, Angie. I couldn't get the hard cover here in the US, and I wanted it quickly, so I bought the e-book... Read Full Review
Joyce Miller, Dallas TX, AKC Canine Ambassador, www.dearjubilee.com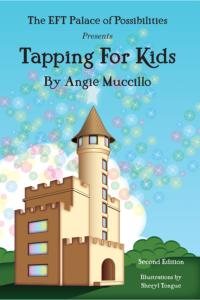 Really fun book. Not what I was expecting. Very easy book to read.
Really fun book. Not what I was expecting. Talking about a castle and how the kid are moving from one room to another, each room has a different EFT exercise with some 'song', trying to implement it and kids love the tapping idea, they think it is fun combining with the song.

Very easy book to read.
H, Amazon.co.uk Customer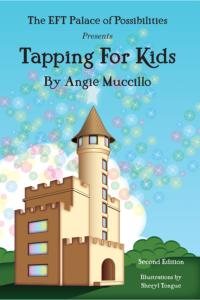 We have had some amazing results
Fantastic idea. I knew about EFT and tapping before and had been trying to adapt it for my daughter.

This makes it so simple to follow and she enjoyed reading the book herself. We have had some amazing results with improving her eating as well as worries about school (1 child she thought hated her - turns out to be her new best friend!)
Mrs. J.D. Tate, Kent, UK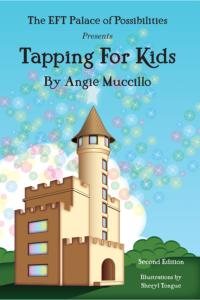 Tapping For Kids opens up a whole new perspective on EFT for me
I have just had a quick look at the 'Tapping for Kids' booklet which I purchased and at some of the free downlads. I am simply delighted with the whole package. It opens up a whole new perspective on EFT for me. You are extremely generous to give so much free stuff with the ebook. I look forward to using these resources.
Maureen Moran, Ireland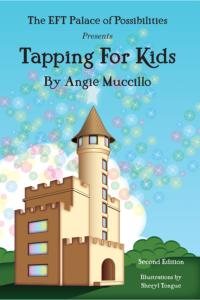 Top Pick For Your Bookshelf!
One of Primary Times' Top Picks For Your Bookshelf!

Ever been really angry and wished you could calm down or been so worried you make yourself feel ill? Then maybe tapping might help. It's a sort of workout technique where you tap different parts of your body (the happy buttons) while doing certain activities and saying rhymes or phrases that help you understand how it works. You don't have to say these aloud if you feel embarrassed or silly, and after a while you probably won't need to say them at all. Tapping is part of something called EFT or Emotional Freedom Techniques that helps children deal with their day to day problems, and this book,
aimed at 7-11 year olds, teaches how to do it in a playful storytelling way as you visit the Palace of Possibilities and meet the TapMeister who'll help you learn what to do.
Primary Times Magazine, www.PrimaryTimes.net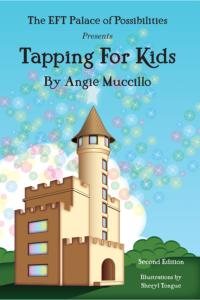 This is such a creative, exciting book to teach children to use the power of tapping in a fun way!
Every now and then there's a magical innovation, and this new book is a great example. I love the way that Angie Muccillo has drawn on the Palace of Possibilities to amplify the message about Emotional Freedom Techniques (EFT) in her first book, "Tapping For Kids". EFT founder, Gary Craig, created this awesome metaphor and now it's been given new life - for kids to use in a very practical way.


Starting in the Playshop on the ground floor they find out about the body's energy system and then progress in the elevator to the various floors of the Palace, learning how to activate their inner powers, how to call up their feelings, on and up, to work out their anger, worries and sadness. They continue floor by floor, learning about becoming their own esteem generators and reach the Practice Room which encourages them to tap on their inner powers daily. On the eighth floor, The Graduation Room, there's a certificate for... Read Full Review
Heather Wilks, Australia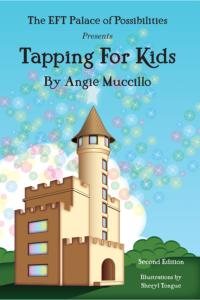 I loved your book, it was the answer to my prayers!
I loved your book! What a gift to children. I'm an EFT Practitioner in Scotland and my dream is to take EFT into our education system but it is a slow process! A few years ago my 12 year son tried to hang himself but luckily it didn't work but it did give me the insight into the pressures the kids feel in our education system and in society. What happened prompted me to learn EFT which I now use on my kids and my friends kids.

Your book is the answer to my prayers!
Anonymous, Scotland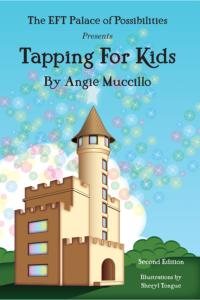 A big Thank You to Angie for bringing EFT to life for children in this creative way and for sharing your enthusiasm!
If you're already aware of the Emotional Freedom Technique and how beneficial it can be, you'd want children to derive the same benefits wouldn't you so why not introduce them to Tapping for Kids? To give you an idea of what the book is about...

Tapping for Kids starts off with the official Palace Theme Song and then it takes the reader through the floors of the TapMeister's Palace of Possibilities As they go through the floors they learn how to "recycle" their worries, rate their feelings on the "feel-o-meter" and understand how to tune into their feelings. By the time they reach The Practice Room on the 7th floor they are ready to be introduced to a step by step guide to using Emotional Freedom Technique. There's even a CD, posters and a graduation party!

A big Thank You to Angie for bringing EFT to life for children in this creative way and for sharing your enthusiasm. I wish you much success with your first book!
Helena Fone, Author "EFT For Dummies"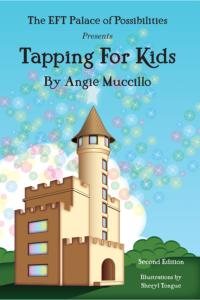 An extremely useful resource for teachers and parents and other mentors!
The future is literally in their hands. The profoundness of this statement is demonstrated in Angie Muccillo's new book "Tapping for Kids." In this well written and beautifully illustrated guide, the magic of the Emotional Freedom Technique comes to life in a meaningful way for the age group at which it is aimed ie for 7-11 year olds. The examples of the problems used by the child characters in the book are real and wlll, therefore, relate well to the chldren who read and apply the techniques outlined in the text. It is also an extremely useful resource for their teachers and parents and other mentors. Practical examples such as packing your troubles into a garbage bag to deal with them for ever and group tapping to help each other with their troubles, empower children to deal with their problems. A happier, well adjusted generation bodes well for all of us. Do your children and yourselves a favour and introduce them to... Read Full Review
Deirdre Brocklebank, Australia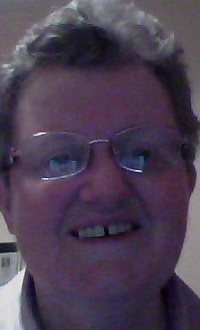 Great For Children! The pictures are clear and really explain the procedures so well. I also like the explanations at the end and the list of reference points for adults to tune into for further information!
I am delighted wtih Tapping For Kids. It is simply brilliant for children. It can be adapted too to suit a particular group. The story form may suit younger children better but it can all be used very effectively with the 7 to 11 age group.

I also love the idea of CD's,posters, and tapping bears, and the feeling meter. Even without all these it can be great for children. They can even make up their own poems, songs and stories from these. The pictures are clear and really explain the procedures so well. I also like the explanations at the end and the list of reference points for adults to tune into for further information. The Australians are very creative even if the ideas come from the US. I wish the book great success. You may not be aware but my dream is to teach both EFT and ET to children so I find this book especially inspiring. I wish it to spread across the globe and bring joy and peace and harmony to the hearts of... Read Full Review
Margarita Foley, United Kingdom