Welcome!
DragonRising is a leading international provider of books, eBooks, audio downloads, distance learning courses, events & workshops in the subjects of Energy, Hypnosis, Project Sanctuary, EmoTrance, EFT Emotional Freedom Technique, NLP Neuro Linguistic Programming, Assemblage Point & Aromatherapy.
If this is your first vist, please make a login account before visiting our store and treasure trove full of free downloads.
With Best Wishes,
The DragonRising Team
Positive EFT
by Silvia Hartmann
Positive EFT is THE ANTIDOTE to depression, anxiety, stress, temper tantrums, low energy, misery, impatience, indecision, confusion and feeling helpless, hopeless, powerless and alone. Positive EFT makes introducing EFT into an easy and thoroughly enjoyable, upliftng experience. It is perfect...
[ Learn More... ]
Energy EFT (Book & Video)
by Silvia Hartmann
Silvia Hartmann, chair of The AMT, takes Gary Craig's classic EFT to the next level with this wonderfully comprehensive book that is as absolute must-buy for anyone interested in energy and its use turning negative emotions into positive ones. All emotions can be worked with including...
[ Learn More... ]
Energy EFT Bookmark
This bookmark is the perfect accompaniment to Energy EFT by Silvia Hartman, featuring the full "heart & soul" tapping points on the front and a handy SUE scale on the back. Buy 10+ to give to your clients and save 50%.
[ Learn More... ]
Excel at Sports
by Jimmy Petruzzi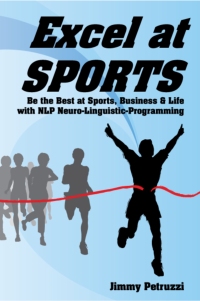 Elite athletes know that there is as little as 1% difference between being the best, and being at the back of the field. Excel at Sports by Jimmy Petruzzi is a simple, concise and ground-breaking guide to NLP Neuro Linguistic Programming and other techniques that can give you that extra 1%,...
[ Learn More... ]
EmoTrance
by Silvia Hartmann
A Brand New Book For The Next Decade: Powerful information every person on this Earth needs to hear about. Ten years of EmoTrance in theory and practice have taught us so much about energy, how it works with human emotion but also with thought and behaviour. In this brand new book you find the...
[ Learn More... ]
Excel at Business
by Jimmy Petruzzi
Working in business is a difficult arena to succeed in. Using cutting-edge NLP Neuro Linguistic Programming skills Excel at Business by Jimmy Petruzzi will empower you with the techniques you need to get the best out of yourself and others. From high-paced sales to the management of...
[ Learn More... ]
Tapping For Kids
by Angie Muccillo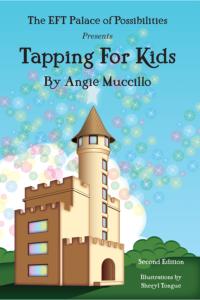 "Tapping For Kids" is an EFT Children's book designed to teach 7-11 year olds how to use EFT as a tool to help them overcome their fears, worries and everyday traumas as well as build their self-esteem. Tapping For Kids is a perfect gift for any children in your life! Tapping for Kids is now...
[ Learn More... ]
Big Ted's Guide to Tapping
by Jen Smith & Alex Kent
Turn negative emotions into positive ones with  BIG Ted's Guide to Tapping . Join the loveable BIG Ted as he guides you and your child through the near miraculous Emotional Freedom Techniques (EFT).
[ Learn More... ]
Adventures in EFT
by Silvia Hartmann
Learn and understand EFT with this practical and information packed manual that includes the A-Z of EFT applications and how to use this wonderful technique with a wide variety of problems. Treat yourself for sadness, anger, addictions, low self esteem and a whole lot more! Adventures In EFT is...
[ Learn More... ]
Finding the River
by Sally Topham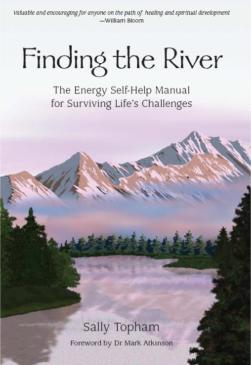 Life can be a struggle, this is a fact, both work and personal life are full of their ups and downs. Energy Therapies are some of the simplest and most effective methods of combating life's challenges, but even so, just finding the right Therapy for you can be a struggle in its self. Finding...
[ Learn More... ]
Finding the River - Guided Meditations & Healing Techniques
by Sally Topham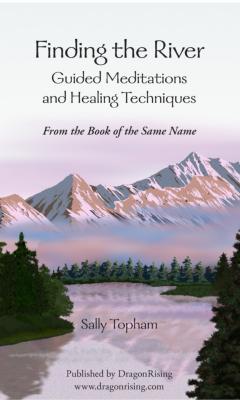 Meditation is a perfectly natural practice. You've almost certainly experienced the peace that comes from contemplating a beautiful view or sunset, stroking your cat, or feeling the warm sun on your body as you listen to waves lapping on the shore.  That's a form of meditation. This series of...
[ Learn More... ]
Project Sanctuary
by Silvia Hartmann
Project Sanctuary is a unique set of processes using intention, energy and metaphor, developed by Dr Silvia Hartmann in 1993, that heals the divide between the conscious mind and the energy mind (unconscious mind, dreaming mind, subconscious mind). It is a fantastic, exciting and delightful...
[ Learn More... ]
EmoTrance Soften & Flow
by Silvia Hartmann & Ananga Sivyer
Have your personal energy healing session like no other with two of the World's premier EmoTrance Trainers - Ananga Sivyer and Silvia Hartmann at your pleasure, any time, any day and as often as you require to feel your oldest burdens and troubles Soften and Flow away. 15 minutes of sheer bliss...
[ Learn More... ]
Your Dog & Your Baby
International Bestseller since 1991, now in its completely revised fifth edition. Includes detailed information and 16 step-by-step action plans on how to treat and avoid Jealousy, special pre-baby training, hygiene, safety, car training and much more. Also contains lots of Real Life...
[ Learn More... ]
The Genius Symbols, 2nd Edition
by Silvia Hartmann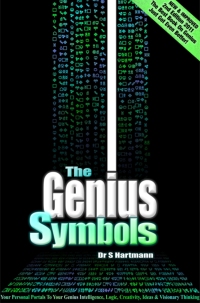 Silvia Hartmann defines what it means to be a true genius and proposes that this is a basic human right, rather than an accident of birth. In this paradigm shifting work, which is the result of nearly five decades of research and testing, The Genius Symbols are introduced. Note: This is the...
[ Learn More... ]
The Catalyst Of Power
by Jon Whale
The Catalyst of Power by Jon Whale, leading researcher in electronic energy medicine, is an extraordinary and unique book. It not only takes the form of a challenge to conventional medical practices but also gives each individual the opportunity to be in control of their own physical and...
[ Learn More... ]
Deep Trance Lullaby
by Silvia Hartmann & Ananga Sivyer
Deep Trance Lullaby by Silvia Hartmann & Ananga Sivyer is a one hour Audio CD or MP3 Download for people who sleep normally in general and would appreciate extra help during particular stressful circumstances, or who would like to experience deeper sleep states, experiment with deep trance,...
[ Learn More... ]
Magic, Spells and Potions
by Silvia Hartmann
StarFields aka Dr Silvia Hartmann author of Adventures in EFT , Oceans of Energy & The Genius Symbols , has rewritten the foundations of Magic, Spells and Potions for the 21st century. By throwing out the dusty old spell-books and by challenging the roots, structures and beliefs of...
[ Learn More... ]
EFT Master Practitioner - 12 x DVD Set
by Silvia Hartmann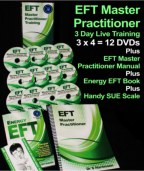 In March 2012, Silvia Hartmann (chair of The AMT & author "Energy EFT") conducted a 3 day EFT Master Practitioner live training near London Gatwick and DragonRising took along our cameras to record the magic which was to unfold. This is now available as a 12 x DVD box set, containing over 8...
[ Learn More... ]
Latest Reviews
With Positive EFT and Love EFT Silvia gives us something wonderful and precious to work with - Birgit Hueckel, Germany
Read Review
To anyone thinking about taking this course I'd say: What are you waiting for??? - Jamie Streett, Baltimore USA
Read Review
It was a fantastic course and would recommend Adrienne McAllister for anyone out there who wants to become an EFT Master Practitioner xxx Loved every minute of it. x - Darlene Stanton EFT Master Practitioner
Read Review
Small format paperback, easy to read and use. Would recommend to anyone... definitely just the job for kids, clear and thorough explanation. - Ms. F. Dilston, Amazon UK Customer
Read Review
Love EFT is so beautiful, Silvia! Each word feels like gentle encouragement to tap along with you and be guided along the journey to evolve stuck aspects relating to love. - Kelly Burch, Australia
Read Review
Phone Us
Place your order by phone. Our office is open 9am-5pm (GMT), Monday-Friday:
UK
01323 700 123
US + Canada
646 496 9857
Europe & International
+44 1323 700 123
Online Payments