Welcome!
DragonRising is a leading international provider of books, eBooks, audio downloads, distance learning courses, events & workshops in the subjects of Energy, Hypnosis, Project Sanctuary, EmoTrance, EFT Emotional Freedom Technique, NLP Neuro Linguistic Programming, Assemblage Point & Aromatherapy.
If this is your first vist, please make a login account before visiting our store and treasure trove full of free downloads.
With Best Wishes,
The DragonRising Team
Positive EFT
by Silvia Hartmann
Learn the brillant NEW Positive EFT method that is taking the world by storm!  Feeling better instantly and raising the energy you need for your life has become as easy as 1-2-3 with Positive EFT.  Groundbreaking, revolutionary, future orientated, success orientated, clean, simple and so...
[ Learn More... ]
Energy EFT Bookmark
This bookmark is the perfect accompaniment to Energy EFT by Silvia Hartman, featuring the full "heart & soul" tapping points on the front and a handy SUE scale on the back. Buy 10+ to give to your clients and save 50%.
[ Learn More... ]
Energy EFT (Book & Video)
by Silvia Hartmann
Silvia Hartmann, chair of The AMT, takes Gary Craig's classic EFT to the next level with this wonderfully comprehensive book that is as absolute must-buy for anyone interested in energy and its use turning negative emotions into positive ones. All emotions can be worked with including...
[ Learn More... ]
Big Ted's Guide to Tapping
by Jen Smith & Alex Kent
Turn negative emotions into positive ones with  BIG Ted's Guide to Tapping . Join the loveable BIG Ted as he guides you and your child through the near miraculous Emotional Freedom Techniques (EFT).
[ Learn More... ]
Parenting with Heart & Soul
by Kelly Burch
Parenting is hard. No one tells you that. You suddenly have a child in your care and it's up to you, sink or swim. Ever felt like it should be easier? Yeah, so did Kelly Burch . In Parenting with Heart & Soul , Kelly combines her expertise as an energy healing practitioner and mother to...
[ Learn More... ]
Excel at Sports
by Jimmy Petruzzi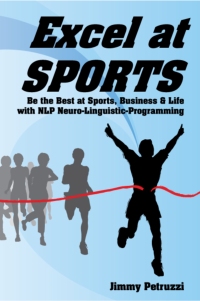 Elite athletes know that there is as little as 1% difference between being the best, and being at the back of the field. Excel at Sports by Jimmy Petruzzi is a simple, concise and ground-breaking guide to NLP Neuro Linguistic Programming and other techniques that can give you that extra 1%,...
[ Learn More... ]
EmoTrance
by Silvia Hartmann
A Brand New Book For The Next Decade: Powerful information every person on this Earth needs to hear about. Ten years of EmoTrance in theory and practice have taught us so much about energy, how it works with human emotion but also with thought and behaviour. In this brand new book you find the...
[ Learn More... ]
Magic, Spells and Potions
by Silvia Hartmann
StarFields aka Dr Silvia Hartmann author of Adventures in EFT , Oceans of Energy & The Genius Symbols , has rewritten the foundations of Magic, Spells and Potions for the 21st century. By throwing out the dusty old spell-books and by challenging the roots, structures and beliefs of...
[ Learn More... ]
AMT14 - Free Gifts
Thank you for registering for the AMT14 EFT & Energy Conference. Here you'll find your free gifts, which includes all the presentation recordings and manual from the 2013 Conference. For details on AMT14, including hotel and travel, please visit: www.TheAMT.com/conference/
[ Learn More... ]
Excel at Business
by Jimmy Petruzzi
Working in business is a difficult arena to succeed in. Using cutting-edge NLP Neuro Linguistic Programming skills Excel at Business by Jimmy Petruzzi will empower you with the techniques you need to get the best out of yourself and others. From high-paced sales to the management of...
[ Learn More... ]
Project Sanctuary
by Silvia Hartmann
Project Sanctuary is a unique set of processes using intention, energy and metaphor, developed by Dr Silvia Hartmann in 1993, that heals the divide between the conscious mind and the energy mind (unconscious mind, dreaming mind, subconscious mind). It is a fantastic, exciting and delightful...
[ Learn More... ]
Tapping For Kids
by Angie Muccillo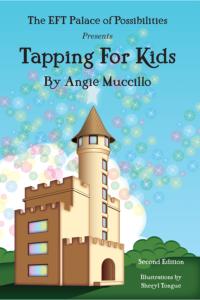 "Tapping For Kids" is an EFT Children's book designed to teach 7-11 year olds how to use EFT as a tool to help them overcome their fears, worries and everyday traumas as well as build their self-esteem. Tapping For Kids is a perfect gift for any children in your life! Tapping for Kids is now...
[ Learn More... ]
The Golden Horse & Other Fairy Tales
by Silvia Hartmann
Created by Master Story Teller Silvia Hartmann For Magical Children Aged 9 - 99, The Golden Horse is an anthology of absolutely original, highly creative stories told in traditional fairy tale format to enlighten, inspire and foster curiosity and delight in exploration. Modern yet ageless,...
[ Learn More... ]
EmoTrance Soften & Flow
by Silvia Hartmann & Ananga Sivyer
Have your personal energy healing session like no other with two of the World's premier EmoTrance Trainers - Ananga Sivyer and Silvia Hartmann at your pleasure, any time, any day and as often as you require to feel your oldest burdens and troubles Soften and Flow away. 15 minutes of sheer bliss...
[ Learn More... ]
The Secret Song
by Silvia Hartmann & Ananga Sivyer
A magical meditation to get closer to Lady Luck and invite her into your life! In this wonderful meditation, you will experience luck in a new way - special moments, special places, luck fields and winds of luck where for a time, reality is quite different. The lucky ones can spot those luck...
[ Learn More... ]
Champagne Turquoise
by Silvia Hartmann
Dr Hartmann's acclaimed Champagne Turquoise - The NEW Shamanic, Autogenic, Energetic, Hypnotic Weightloss & Fitness guided meditation. A full, daily 30 minute "mind, body, spirit workout" that is deeply enjoyable, beneficial, relaxing, feels good, and that you can enjoy at any time,...
[ Learn More... ]
The Rich & Healthy Witch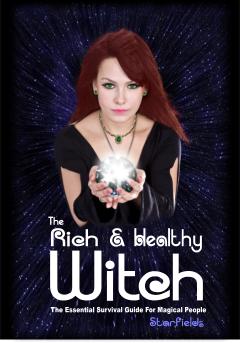 The Essential Survival Guide For Magical People, The Rich & Healthy Witch is a powerful book, packed full of wisdom and practical advice for people who are "other than" - other than the other kids at school, other than the other members of their families, and this OTHERNESS sets them apart,...
[ Learn More... ]
The Magician
The Magician is a deeply moving story of one woman's journey of transformation. This extraordinary novel by master story teller Starfields engages the emotions as well as the mind and it contains sequences of events and images that will stay with the reader forever. Fascinating, surprising, and...
[ Learn More... ]
AMT EFT Master Practitioner Course DL
by Silvia Hartmann & Kelly Burch
The AMT EFT Master Practitioner Course, NEW for 2012, takes the developments from the last 14 years of EFT worldwide and brings them together so that the student can experience a clear, logical, direct and powerful way to resolve  problems with EFT Emotional Freedom Techniques. The successful...
[ Learn More... ]
Latest Reviews
In Aromatherapy For Your Soul, Silvia Hartmann has captured the true essence of each essential oil. - Kelly Burch, Author of Parenting with Heart & Soul - http://kellyburch.com. au/
Read Review
The book is excellent! - A. L. Walton, Amazon.com customer
Read Review
Cute and easy...suitable as a quick guide outlining the fundamentals for adults too! - Louise ONeil, Amazon.com Customer
Read Review
A new way of using EFT which sits very well with me. - Lorna Adams, Amazon.co.uk customer
Read Review
Fantastic little book which works! - A Hardley, via Amazon.co.uk
Read Review
Phone Us
Place your order by phone. Our office is open 9am-5pm (GMT), Monday-Friday:
UK
01323 700 123
US + Canada
646 496 9857
Europe & International
+44 1323 700 123
Online Payments