<![CDATA[SN-INDEX-OPEN]]>
The Trillion Dollar Stress Solution: MODERN Stress Management - From Stress To Success
Silvia Hartmann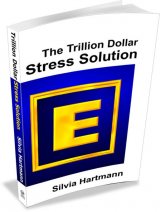 Very rarely, a book comes along that has the power to change the way we see the world. Silvia Hartmann's extraordinary The Trillion Dollar Stress Solution is that book. Fundamentally revolutionary, this book delivers exactly what it says on the tin - the definitive solution to The Trillion Dollar Stress Pandemic, and the master key to success in life for individuals, families, companies, societies, and in the end, all of humanity.
The Trillion Dollar Stress Solution:
MODERN Stress Management
From Stress To Success
Created by Silvia Hartmann for the 21st Century
Stress is "The Trillion Dollar Global Pandemic" - and here is the Trillion Dollar Stress Solution!
Allow yourself to be astonished when you find out that the entire "stress management industry" is stuck on an outdated model from 1908 - and the profound difference it makes when we start to apply MODERN stress solutions.
In this brilliant book, GoE President Silvia Hartmann gives us a logical, concise explanation of stress, and the direct road that will lead from stress to SUCCESS - in business, in work, in our personal lives, and in the end, for humanity at large.
Stress makes human beings stupid. The more stressed they are, the more stupid they become. 
They also become consecutively more unlucky, unlovable, accident prone, susceptible to injuries, short sighted and generally hapless, hopeless and helpless.
MODERN Stress Management reverses the tide and shows us how we can become "better people" - by moving out of stress, and into success - effortlessly.
By understanding MODERN Stress Management, we learn how to move into high energy states 
Naturally
Easily
Profoundly
Without the need for meditation, yoga, biofeedback or even having to use "methods" such as EFT or EMO.
MODERN Stress Management is logical and immensely practical.
MODERN Stress Management can (and should!) be applied to every area of life to get the MASSIVE gains that are on offer.
MODERN Stress Management Improves:
Personal Performance: Thinking, logic, intelligence, creativity, decision making, confidence, emotional control.
Physical Performance: Strength, speed, endurance, posture, co-ordination, regeneration and recovery, accuracy.
Social Performance: Social skills, emotional intelligence, communication abilities, team work, popularity, being liked/loved.
Leadership: Qualities of vision, inspiration, personal power, natural authority, strategic planning, systemic thinking.
What Money Can't Buy: Satisfaction, happiness, achievement, success, purpose, power, passion, luck, life and love of life.
 There's never been so much stress in the world - Stress is everywhere.
"The Trillion Dollar Stress Pandemic" - and it's happening right now.
Stress At Work - Stress In The Home - Money Stress - Health Stress - World Stress!
STRESS STRESS STRESS ...
Let's take a deep breath - here's the good news.
Here is The Trillion Dollar Stress Solution.
Concise, clear, logical, tested, proven - correct.
Based on Silvia Hartmann's life's work to understand the cause and effect of emotional stress, here is the Trillion Dollar Stress Solution in a nutshell.
Life changing information that is easily applied to individuals, partners, at work, in business, in schools - anywhere. 
In order to defeat stress, you need to understand stress.
In this revolutionary book, you will find out:
What exactly this "stress" is that everybody is talking about, and nobody knows how to deal with;
Exactly why current "stress management" systems are failing so badly;
What we have to do in order to win the war on stress - finally.
The Trillion Dollar Stress Solution will finally explain ...
How to measure stress accurately so you can respond appropriately;
Simple, practical strategies to defeat stress and in others;
How to deal with stressed people to make them calm down and relax.
How taking control of YOUR stress in a new way will simply revolutionize YOUR life. 
Are stressed people driving YOU crazy?
Is your partner stressed and their health is starting to fail?
Are your kids not doing as well at school as they could?
Is your workplace full of stress - and nobody has an answer?
You need 
The whole world is stressed out - and it's getting worse!
The Trillion Dollar Stress Solution has the answer.
There are a myriad of vested interests wanting to suppress this essential knowledge and sell us all more medication instead, from the cradle to the grave.
The repercussions of stress drives a multitude of industries designed to feed on the ill health in mind, body and spirit directly caused by stress - they will NEVER tell you the truth about stress, and what we can practically do to win the war on stress, once and for all.
Truthful. Simple. Practical. Profound.
The Trillion Dollar Stress Solution by Silvia Hartmann
Move from stress into success. 
Your happiness matters!
Purchase Options
| Products | Price | |
| --- | --- | --- |
| The Trillion Dollar Stress Solution (eBook/English) | £14.97 | |
| The Trillion Dollar Stress Solution (Paperback/English) | £24.97 + p&p | |
Postage will be calculated on the next screen
Pay in a different currency...
<![CDATA[SN-INDEX-CLOSE]]>
Other
EMO Energy Dancing 3: Positive Energy: Dance Your Dreams!
For the lovers of the unique EMO Energy Dance worldwide, here is the new, future focused, joy orientated ...