<![CDATA[SN-INDEX-OPEN]]>
60 Second Wealth Creators by Silvia Hartmann: 365 Genius Exercises, Techniques & Spells For Your True Wealth
<![CDATA[SN-INDEX-DISALLOW]]>
Silvia Hartmann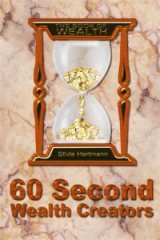 The AMAZING 60 Second Wealth Creators: 365 Mind, Body Spirit meditations, metaphors, exercises, affirmations, spells and techniques that can be done in minutes, Created by Silvia Hartmann as the perfect personal course to finally overcome blocks to deserving, wealth, receiving and active reality creation to bring you true wealth - in the widest possible sense.

Energy, Thought, Mind, Logic, Emotion -
Engage them all with these unique Wealth Creating Exercises.
There are 365 DIFFERENT exercises, one for every day of the year, to change your mind, heal your energy system, engage your desires, reduce your stress and improve the clarity, logic and focus across the levels and the layers.
The 60 Second Wealth Boosters is a SUPERB Resource For:
| | |
| --- | --- |
| | Personal Development - with each exercise, you can FEEL your mental flexibility improve, your stress levels drop, and your focus, energy AND DESIRE for achievement return. |
| | Business Owners, Managers & Entrepreneurs - gain NEW ideas for optimising your business, save money, excite your users and become more flexible and imaginative as well as making more money easier and faster. |
| | Teachers - especially for teachers who work with underprivileged children and adults; many if not all of these exercises can be easily integrated and sometimes just spoken, quickly, immediately and with excellent results. |
| | Performance Coaches - Giving clients specific exercises to do to combat their weak points in achievement, success and true wealth creation adds a great deal of value to the coaching experience. |
| | Therapists, Psychologists and Healers - Here are an absolute treasure trove of patterns and techniques designed to change hearts and minds, to bring about relaxation and put a person back into control of their own incarnation. |
| | Workshop Leaders - Have at your fingertips a resource book like no other; as these exercises are so condensed and fast to do, you can add these as a bonus for group work at any time; and develop longer versions or more in-depth versions of each one when and if required. |
| | Parents & Grandparents - Would that there be more parents and grandparents who would take the time and trouble to play these "games" with even young children, to improve their confidence, engage their imagination, their critical faculties and give them sense that "Yes, it is POSSIBLE to achieve true wealth and happiness, to make a contribution to society, to the world, AND to live a GREAT life!" |
INCREDIBLE Value, this is an eBook that is a lifetime's resource and THE most fabulous thing to have on your bedside table to browse, flick through and let the Universe pick an exercise to de-stress and enjoy - and to create YOUR wealth.
60 60s - 60 Second Wealth Creators Demo.pdf
60 great prosperity and wealth exercises - and each one takes 60 seconds or less to complete! Demonstration version of the amazing "60 Second Wealth Creators" by Dr Hartmann in Adobe PDF format.
Purchase Options
Products

Price

There are currently no offers to be displayed
Pay in a different currency...
<![CDATA[SN-INDEX-CLOSE]]>