<![CDATA[SN-INDEX-OPEN]]>
EmoTrance BeautyT Self Healing Meditation Audio Program: Make Your Energy Body Beautiful And Transform Your Self Concept Now!
<![CDATA[SN-INDEX-DISALLOW]]>
Silvia Hartmann & Ananga Sivyer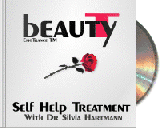 Heal your self concept with this concise Self Help BeautyT healing treatment delivered by Silvia Hartmann. Note: This self-help application CD is designed for people familiar with the BeautyT process as explained in the BeautyT book. If you are not familiar with BeautyT then buy this product as a bundle with the book which will explain the process in detail.
EMO BeautyT has been moved to The GoE Members Library. Please visit here for more details
-
MEMBERS LIBRARY
Restore your autogenic body image, remove and reverse damage to your self concept and experience the beauty, joy and love of unconditional healing regard for your physicality.

This recording is recommended both for BeauTy T self help users, as well as being an example for EmoTrance practitioners offering live BeauTy T treatments.

With Sonic Solutions TM Power Sound Scapes by Composer Ananga Sivyer
The running time of this product is approx. 12 Minutes and for your convenience is available as an Audio CD sent through the post, or as an MP3 download.
The MP3 download version is 10.0Mb and can be burned onto a CDR if your computer is capable of doing so, or played straight from your computers media player if you have good quality headphones and the appropriate software. Download times will vary depending on your connection speed. Modem users should get the file in under an hour while broadband users should get it within 10 minutes.
For those of you interested in the entire BeautyT course including this self-help version, please click here.
DragonRising Radio Show.mp3
Hosted by Alex Kent, the DragonRising Radio Show is your definitive guide to our magical Energy Meditation products.
Purchase Options
Products

Price

There are currently no offers to be displayed
Pay in a different currency...
<![CDATA[SN-INDEX-CLOSE]]>