<![CDATA[SN-INDEX-OPEN]]>
Classic EFT Tapping Collection: Easy EFT, Adventures in EFT, The Advanced Patterns of EFT and EFT & NLP
<![CDATA[SN-INDEX-DISALLOW]]>
Silvia Hartmann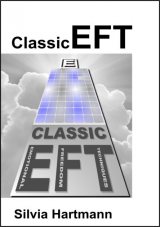 Even though Silvia's Hartmann's modern Energy EFT tapping is a far simpler, more powerful and a safer paradigm shift beyond Classic EFT, we know there are researchers and energy historians alike who would like to learn the original tapping technique, as creator Gary Craig intended.
For this aim, The Guild of Energists (GoE) has bundled together four seminal works on the field by Hartmann, including the best-selling Adventures In EFT, the original book on EFT, into one extensive volume, Classic EFT, which takes the reader right the way from beginner, to advanced practitioner levels.
Classic EFT Tapping by Silvia Hartmann is now available for all GoE members to read for free in the GoE Library. For more information and to join visit:
In Silvia Hartmann's Classic EFT, you'll discover:

Easy EFT by Silvia Hartmann - Introductory guide to Classic EFT tapping, including 'How To Do EFT in 7 Easy Steps'.
Adventures in EFT by Silvia Hartmann & Gary Craig (foreword) - Was the first major book published on Classic EFT in the 1990s and is now in its sixth edition. This title has been cherished over the years by beginners and advanced practitioners alike for its content rich and easy-read style where Silvia's inimitable humour and incredible knowledge shines through. Also included is the thorough A-to-Z reference guide, encouraging you to try classic EFT on a multitude of problems and situations.
The Advanced Patterns of EFT by Silvia Hartmann - This book was written in 2004 to improve the elegance and effectiveness of advanced EFT practitioners. The first part concentrates on the treatment flow and describes essential patterns, techniques and variations on the Classic EFT process which moves an EFT treatment into the realms of true quantum healing. The second part consists of the advanced patterns themselves - treatment guides, techniques and approaches for guilt, bereavement, high end addictions, parts healing, shamanic applications and the original Guiding Stars patterns, released for the first time.
EFT & NLP  by Silvia Hartmann - A special report for practitioners and students of Neuro Linguistic Programming (NLP). EFT & NLP was first written in 1999 as a part of a project by The GoE, designed to educate professionals in the fields of human change and development to the merits and usage of Classic EFT tapping.
Excerpt from Silvia Hartmann's forward to Classic EFT:
"In Energy EFT, we have the SUE Scale instead of the SUD Scale. We have predictable "change events" ("healing events" for strong negative emotions) which we can reach easily.
"We've come a long way from the "ground floor of the healing highrise."
"Yet, still to this day, there are billions of people who haven't even reached that Zero yet, who are still in the deep, dark cellar of emotional pain and suffering.
"It is for this reason I have given permission to publish the "Classic EFT Collection."
"There are lots of interesting case stories, and many good ideas in this book. There are the genesis patterns for much we take for granted these days.
"For the serious student of the field of modern energy work, or energism, this is a very educational book as we look at what was done back then, and to consider how different our approaches would be now.
"For all of that, Classic EFT marks a turning point in human history.
"This I knew from the very first moment I saw it, and I was right."
Purchase Options
Products

Price

There are currently no offers to be displayed
Pay in a different currency...
<![CDATA[SN-INDEX-CLOSE]]>