<![CDATA[SN-INDEX-OPEN]]>
MindMillion Energy Intensive: Trainer Edition
<![CDATA[SN-INDEX-DISALLOW]]>
Silvia Hartmann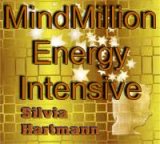 The MindMillion Energy Intensive is way more than just a collection of advanced EFT & EmoTrance concepts that focus the bodies energy system to wealth creation – it is a thorough and complete set of alignment protocols for you to use on yourself, your clients and in your workshops.
Of course, being wealthy means different things to different people. As such you could use this workbook on anything you would like to be abundant in, be it Money, Love or even opportunities to help people!

The program includes workshop, groups and client session schedules for those of you who would like to see the MindMillion Energy Intensive as an investment for your existing set of tools and workshops.

This is your fantastic opportunity to add another string to your bow for an incredible price. Upon payment you will be emailed a receipt containing your username & password that once you have logged in, will make the download (53 Page A4 PDF) available in the downloads section of our site.
Purchase Options
Products

Price

There are currently no offers to be displayed
Pay in a different currency...
<![CDATA[SN-INDEX-CLOSE]]>