<![CDATA[SN-INDEX-OPEN]]>
Energy EFT Master Practitioner - DVD Set: The Most Advanced Energy EFT Knowledge Available Today
<![CDATA[SN-INDEX-DISALLOW]]>
Silvia Hartmann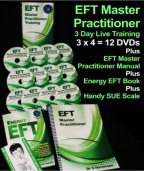 In March 2012, Silvia Hartmann (chair of The GoE & author "Energy EFT") conducted a 3 day Energy EFT Master Practitioner live training near London Gatwick and DragonRising took along our cameras to record the magic which was to unfold. This is now available as a 12 Unit Video Download, containing over 8 hours of footage and includes all 12 units from the course.
Note: This is the most advanced EFT training available so is only suitable for those who really want to push the boundaries of modern energy work utilising EFT. If you are a beginner, we recommend you first purchase the book "Energy EFT" by Silvia Hartmann, or enrol on the "Energy EFT Master Practitioner" home study course which comes with the Video Downloads and full tutor support.
All 12 units of the Energy EFT Master Practitioner syllabus are included:
Level 1 - Basic Professional EFT
01: Teaching EFT - 45 minutes (more info)
02: Energy Body Stress - 42 minutes
03: The EFT Story - 35 minutes
04: The Professional & Ethical EFT Practitioner - 38 minutes
Level 2: Intermediate Professional EFT
05: Extremely Focused Treatments - 40 minutes
06: Working with Aspects - 29 minutes
07: Emotions - 49 minutes
08: Energy Body Events - 57 minutes
Level 3: Advanced Professional EFT
09: Mind Changes - 42 minutes
10: Energetic Relationships - 26 minutes
11: Autogenic Reality - 54 minutes
12: EFT Master Practitioner - 30 minutes
Total play time: 487 minutes - over 8 hours of concise, information packed EFT instruction, tips and techniques for professional EFT practitioners.
The first of twelve units probably contains enough information for most EFT self-helpers and those helping friends and family non-professionally. In this 45 minute presentation, Silvia Hartmann covers:
We Are Energists!
The Third Field
Helping the Citizen
What We Know About The Energy System
Working With The Clients Own Words
Throwing Away The Maps
Your Finger As a Magic Wand
The Rules of Energy
Energy is Not Subtle
How EFT Works
How to Tap Elegantly
The EFT Heart & Soul Tapping Protocol
Precision in EFT Setups
Compound Statements & Why We Avoid Them
Abbreviated Setups
Why We Tap on Ring Finger
Introducing the SUE Scale For Measuring Change To The Positive
Life Beyond Zero
The EFT Miracle & One Minute Wonder
The Healing Event
Improving the Energy Flow
Moving Forward on the SUE
How to Tell if the Problem is Responsive to Energy
The Ethical Promise of EFT
The Promise of the Professional EFT Practitioner
How To Obtain this 12 Unit Video Set
This Video Downloads are available as a bundle with the extremely comprehensive EFT Master Practitioner Manual (table of contents), giving you a complete guide to working plus additional background information, further techniques and additional exercises.
Watch on your computer
Watch on your TV
Watch with friends

Practice together

Learn EFT together

Stop for exercises

Do the exercises

Discover EFT

Check your core skills

Test your core skills

Gain EFT Mastery
If you would like to become a qualified EFT Master Practitioner then you will need to either:
Purchase Options
Products

Price

There are currently no offers to be displayed
Pay in a different currency...
<![CDATA[SN-INDEX-CLOSE]]>