<![CDATA[SN-INDEX-OPEN]]>
EmoTrance Personal Experience Day Live Recordings 2006
<![CDATA[SN-INDEX-DISALLOW]]>
Nicola Quinn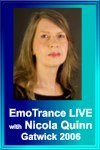 On the 28th April 2006, EmoTrance co-developer Nicola Quinn presented the brand new EmoTrance Self-Help Experience Day syllabus for the first time at the Europa Hotel, London Gatwick UK. This is your opportunity to purchase the complete edited audio recordings that where made that day as well as the comprehensive EmoTrance Self-Help Experience day workshop training manual.
Track Listing:
Introduction by Silvia Hartmann
Insults Exercise
Review of Insults Exercise
Evoking Innocent Energy
EmoTrance Presuppositions
Review of EmoTrance Presuppositions
Ideas & Concepts
Your Creative Template
Gifts Exercise
Review of Gifts Exercise
Heart Healing Conclusion
Total Play Time: 80 Minutes

This product is available in two formats:

Instant Electronic Downloads
11 x Training Sessions (MP3 format - 94MB Total Download)
1 x Self-Help Experience Day Workshop Manual (Adobe PDF format)
Physical CD Manual Set:
1 x Audio CD (Containing 11 session tracks)
1 x Self-Help Experience Day Workshop Manual
Purchase Options
Products

Price

There are currently no offers to be displayed
Pay in a different currency...
<![CDATA[SN-INDEX-CLOSE]]>