<![CDATA[SN-INDEX-OPEN]]>
Growing Confident: 10 Simple Steps To A More Confident You
Jorge Vence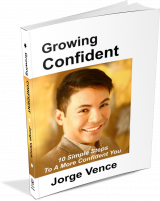 In the wonderfully inspiring Growing Confident, author, life coach and poet, Jorge Vence, shares his insights and his journey of discovery of how he become a confident person, someone who is in charge of their life, and has the energy to go out and make the world a better place.
"Growing Confident was the single best thing I have ever done. It has allowed me to be the person I always dreamed of, to be a role model and, most importantly, has allowed me to want to speak up and share with the world how to Grow Confident too."

Jorge Vence
Author, Growing Confident      
Imagine what you could do if you were just a little more...
Confident with yourself
More certain, more positive
More powerful, more focused
More filled with love & energy!
In this practical and refreshing book, Jorge Vence shares 10 Simple Steps for growing your personal power, and growing into the person you want to be.
Personal, passionate, practical and above all, profoundly inspiring, this book is a true gift to all modern people who want to step into their power, and give the world their gifts.
"Jorge takes a different tack and brings a breath of fresh air - indeed, he brings a thunderclap and a lightning bolt to shake us out of the old grroves we have gotten stuck in, lifting us up, and quite literally, inspiring us to think afresh, make new decisions, and to pick up our power and TAKE ACTION. ~ Silvia Hartmann, Guild of Energists President & author of The Trillion Dollar Stress Solution.

"What is it you can do, when you live confidently?
"The answer is plain and simple.
"YOU CAN DO ANYTHING YOU WANT!" ~ Jorge Vence 
Purchase Options
| Products | Price | |
| --- | --- | --- |
| Growing Confident (eBook/English) | £4.97 | |
| Growing Confident (Paperback/English) | £9.97 + p&p | |
Postage will be calculated on the next screen
Pay in a different currency...
<![CDATA[SN-INDEX-CLOSE]]>