<![CDATA[SN-INDEX-OPEN]]>
SuperGoals: Set A Goal - Heart & Soul!
Silvia Hartmann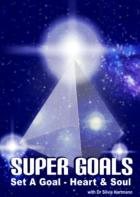 This unique Energy Hypnosis goal setting session, created by Silvia Hartmann, gets us aligned and into contact with most if not all of ourself, and from there, a new form of goal emerges - a SuperGoal, something that is truly important and agreed on by the many aspects of a person, including their heart's desires and their highest path and purpose.
So Tell Me What You Want, What You Really, REALLY Want ...
Do you actually know what you really want?
Do you sometimes wonder if you're missing out on something?
Is there a nagging sense there's something you should be doing - but you don't know what it is?
Have you tried Goal Setting with mixed or poor results - or no results at all?
Do you vacillate between material and spiritual goals - reaching neither fast as a result?
Are you unsure that what you want is really in your best interest or even good for you?
If that sounds like you, then SuperGoals is THE hypnosis goal setting device for you!
5 Easy Steps
To Find
YOUR SuperGoal!
Calm Down, Relax, Soften And Flow!

In the first stage, we get to calm down and relax, and we are encouraged to let go of "false programming" - old inherited ideas of goals, societally accepted "off the shelf" muppet dreams and those ideas that were just formed by accident and as a result of early upbringing. Now, and with that necessary space created, we can begin to listen to our inner voice of reason, but also, the voice of our heart and soul, without which no goal can be formulated, no goal can be reached.

A Confluence Of Wants, Needs, Desires!

In the second stage we begin to listen to our needs and wants, practical considerations and incarnational desires just the same, and a consensus begins to form as to what is really important, and what is not. As this consensus is being reached, we are ready for the third stage - for a new goal to be revealed, something that is harmonious and desirable to all of us.

YOUR SuperGoal - Revealed!

It's truly fascinating when the SuperGoal takes shape not just in your mind's eye, but experienced lucidly and autogenically like a powerful waking dream. Priceless! People tell us time and time again they are ASTONISHED what becomes revealed to them. They use phrases like, "Oh but I should have known!" - "Of course!" - "Oh yes, how PERFECT!"

Making It Here, Making It REAL!

During the fourth phase, the first steps become revealed what we have to do in order to help the SuperGoal manifest for us - with full support from our rational mind, as well as those other aspects of us that are so important to our overall lives and incarnations - including our heart that drives our desires, and our soul whose mission and purpose sometimes seems so mysterious and timeless.

Rest, Remember - And Awake REFRESHED!

The fifth phase is simply to rest, to remember, and to integrate what we have learned from the experience and the new information we have received. You emerge amazed, refreshed bright and full of amazing ideas for your life and how to move forward now from here.
A Wonder-Full Experience ...

This focused, targeted Energy Hypnosis Program is the totally practical, absolutely unique approach to find a new SuperGoal - one that is supported by all you are.

In and of itself, this beautifully crafted energy hypnosis session is also a wonderful integrative experience that you can further use to find new goals and refine and explore known SuperGoals at any time you choose.

Fantastic value for money, a brilliant experience, practical AND priceless:
Hypnosis Goal Setting - SuperGoals - Set A Goal, Heart & Soul!

SuperGoals:

Goal Setting
With Reason,
Heart And Soul.

by Silvia Hartmann
Purchase SuperGoals today and you'll get:
SuperGoals Energy Hypnosis MP3 Download
Power Affirmations by Silvia Hartmann (eBook)
DragonRising Radio Show.mp3
Hosted by Alex Kent, the DragonRising Radio Show is your definitive guide to our magical Energy Meditation products.
SuperGoals.mp3 (Demo) by Silvia Hartmann
Hypnosis MP3 demonstration of SuperGoals by Silvia Hartmann
Purchase Options
Products

Price

SuperGoals (Audio Download/English) +
Power Affirmations (eBook) +
GoE Standard Member (Printed Manual)
£14.97
Pay in a different currency...
<![CDATA[SN-INDEX-CLOSE]]>
Other
HypnoDreams 3: Freedom! Modern Energy Meditations by Silvia Hartmann & Ananga Sivyer
HypnoDreams 3 - "Freedom" is powerfully uplifting, intensely inspiring and absolutely beautiful. Created ...