<![CDATA[SN-INDEX-OPEN]]>
LightWorks Professional Edition
Nicola Quinn & Silvia Hartmann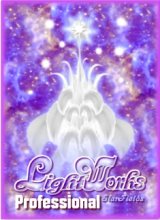 The perfect tool for Lightworkers, Therapists, Healers & Workshop Leaders, Lightworks Professional is a set of 4 Audios for use by professional lightworkers or energy workers in healing sessions, practice sessions in workshops, group meditations, healing circles to assist in healing, meditation, trancework and to create a safe space for increased confidence and rapport.
An original, complete composition by StarFields, Lightworks comes in four separate mixes:
LightWorks I:   15 Minutes
LightWorks II:  30 Minutes
LightWorks III: 45 Minutes
LightWorks IV: 60 Minutes
* Set the amount of time you need precisely in professional energy work with clients.
LightWorks Professional Is Engineered & Designed ...
To create a powerful ambience for a healing session with a client
As ambient trance support for guided meditations with individuals and groups
To deepen meditations, rituals and trance experiences across the board
To support trainees during practical exercises in live trainings
To help the trainer, healer, hypnotist, teacher structure time and gently lead into and out of energy work.
To create a space of safety where resonant rapport can blossom
To function as a powerful healing aid and tool for any energy healer or lightworker.
Unlike widely available "new age elevator music" which just suppresses background noise, LightWorks was created by StarFields who has some 30 years experience in energy work and has translated this into sounds and movements that do a lot more than just support the lightworker; LightWorks itself "softens and flows" energy on its own accord - both that of the client, as well as that of the practitioner/healer/teacher/trainer.
Use the 15 minute LightWorks I for:
A special "healing within healing" session
For particularly profound problems that need a lot of healing
For a meditation at the end of a healing session
To play during energy exercises at workshops, group meetings and trainings;
For a solid, deep and wide self healing or meditation experience on your own when time is of the essence.

Use the 30 minute LightWorks II for:
Framing an entire healing session after the "initial consultation phase" is over;
Offering a special "LightWorks" 30 minute healing session to clients;
For complete guided meditation and hypnosis experiences with clients or in workshops;
For wonderfully re-charging personal healing experiences.

Use the 45 minute LightWorks III for:
Full length massage and healing treatments;
Longer meditations and complete hypnosis treatments;
For conducting rituals and raising magic energies;
For creating your own purpose made guided meditations.

Use the 60 minute LightWorks IV for:
Framing an entire session with clients or groups;
When you suspect 45 minutes won't be long enough and you might need more time;
When you don't know how long something might take, to be on the safe side;
For extremely deep meditations and complex rituals and evocations.
LightWorks is powerfully uplifting and healing in its own right.

Play LightWorks out aloud on a good stereo system and let the intelligent healing vibrations do the work.

Hard working healers too can benefit from choosing their session length to get their healing and relaxation time!
LightWorks Gives You Flexible Time Control

The four different time LightWorks give you perfect control over your healing time which is invaluable in the professional practice.
LightWorks Gives You Flexible Power Control


You can use the volume to "power up" LightWorks to do more, and control the volume according to your needs,
from a light and resonant lifting that is felt in the body, rather than heard,
to real, powerful support for your voice, energy, state, emotion and action,
and all the way to be the "main healing event" that works by itself and without you having to do anything at all.

LightWorks Supports YOU Powerfully

LightWorks was created not by a studio musician, but by StarFields, who has some 30 years experience of the reality of working with clients, healing meditations, groups, and energy hypnosis.

Because of this, LightWorks has powerful support FOR THE HEALER built within its very structure.

LightWorks is designed to:


Reduce Healer Stress - LightWork soothes and empowers the energy system, and not just the energy system of the client.
Empower The Healer - LightWorks stands behind you and lifts you, so you can be free to be the extraordinary healer you can be.
Protect The Healing Space - LightWorks has a powerful underlying protection pulse that creates a healing space of safety into which both the healer and the client/s can relax and expand.
Create Rapport between Healer & Client/Group - LightWorks invites and powerfully supports a resonance movement for all within its space of healing. This connects all those present and materially aids in creating the kind of deep rapport that is the hallmark of the "client - practitioner dance".

This is especially valuable in group situations, to bring dissonant groups together and make it much easier to teach and heal.

Please Note: If you use LightWorks on a regular basis, the practice and knowledge of the energy movements in the songs will assist you in stepping into "the healing state" more quickly, more deeply. The regular use of LightWorks will help to evolve you as a healer and teacher, eventually unlocking new levels of your healing skills across the board.


LightWorks Professional is a four quality CD set of pure Healing Music with intelligent energy resonances for healing and meditation, created using the Art Solutions process.

The Perfect Support Tool For YOUR Professional Healing Practice.

Created by StarFields For The LightWorkers of Today.

An excellent investment and a very valuable addition to any professional healing/teaching practice.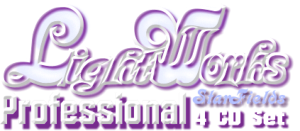 Lightworks by Silvia Hartmann (5 Minute Demo)
Five minute excerpt from Lightworks by Silvia Hartmann
Purchase Options
| Products | Price | |
| --- | --- | --- |
| LightWorks Professional Edition (Audio Download/English) | £29.95 | |
Pay in a different currency...
<![CDATA[SN-INDEX-CLOSE]]>
Other
Angel EFT: Tap into the Angelic Realms with Modern Energy EFT
In the fascinating and inspirational Angel EFT, Susan Browne demonstrates the wonderful synergy of ...