<![CDATA[SN-INDEX-OPEN]]>
Magic, Spells and Potions: THE Book on MODERN ENERGY MAGIC - For 21st Century People!
Silvia Hartmann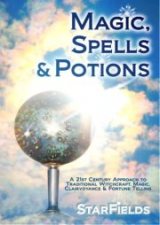 By throwing out the dusty old spell-books and by challenging the roots, structures and beliefs of centuries old witchcraft, Silvia Hartmann has created techniques that will finally make magic work for you in ways you never believed to be possible.
This exciting book on REAL MAGIC contains numerous unique magic spells that really work, lots of easy, exciting NEW exercises to develop your own REAL magical abilities and magic powers, as well as teaching you how to make your very own custom power spells, potions, charms and amulets, rituals and much, MUCH more!
You will find out how you can:
Create Powerful Charms and Potions that really work!
Make beautiful, resonant protection devices for those you love.
Find out how you can make shields and glamours - easily and naturally.
Create your own custom made powerful spells, or work with the numerous samples provided for beginners. Topics covered include: Love Spells, Revenge Spells, Protection Spells, Weight Loss Spells, Fairy Spells, Fire Spells, Beauty Spells and many more!
Create Hexes, Totems and Sigils - custom made and wonderfully powerful!
Learn how to do fantastic, spot on Fortune Telling,
Find out for yourself why so many people have said that Tarot Decks are "old hats" needing to be replaced by these unique techniques that gives clearer, more intense visions - and without years of study!
Develop your "second sight" including clairvoyance and clairaudience, remote viewing and skrying, but also your "magic spider sense" - the real feelings that guide you in the amazing realms of magic.
Get to know your helpful Angels, Spirits & Entities that will tell you the real secrets of your own magic - in love, light and absolute safety!
Find out about your own unique "magical ancestry" - and how you can use the powerful help of your ancestors in the spirit world to make your life better, today!
Harness the power of a complete pantheon of deities working on your behalf.
Create your own symbol power-deck and set free your REAL magic potential.
Discover the true joy of magic - power and light are one and the same!
And much, much more!
Note: All spells and potions come from a place of love and are safe for beginners.

About Silvia Hartmann:

Silvia Hartmann is the incredibly gifted researcher who developed ground-shaking personal development techniques such as SuperMind, EMO and The Energy Symbols (Previously known as the Genius Symbols)– all outstanding contributions to the field of Modern Energy.
It was whilst tutoring students that Silvia Hartmann realised the massive potential of her technique The Genius Symbols for essentially rebuilding the structures of magic from the ground up, without all the archaic metaphors and beliefs that hold many magical apprentices back from reaching their full potential.

When testing out these techniques on hundreds of people from all different backgrounds, Hartmann remarked:
"How did anyone use to do magic without The Genius Symbols?!"
In 2004, Silvia Hartmann launched the website www.Magic-Spells-and-Potions.com which has attracted over five million visitors and has become one of the top magic sites on the Internet. The many questions asked by these visitors over the last five years helped Hartmann understand what goes wrong in the study and practice of magic. In "Magic, Spells & Potions" she addresses these problems from the ground up so that the study of magic becomes once again, what it should always have been - filled with light, joy, and awe at the natural power of human magic that is our true right of birth.
True Human Magic for the 21st Century
Available NOW:
Magic without the "Medieval Madness"
Magic that is wonderful, bright, light filled - and POWERFUL
REAL Magic for the 21st Century
This is ...
Magic Spells & Potions
by StarFields
Order NOW -
Quality Softback Manual or Low Cost Download Illustrated Quality PDF
... and bring some REAL MAGIC POWER into YOUR LIFE!
We have created a special bundle deal for the eBook & softback manual edition. As with purchasing all DragonRising eBooks you will also qualify for FREE upgrades whenever this magical manual gets updated!
Purchase Options
| Products | Price | |
| --- | --- | --- |
| Magic, Spells and Potions (eBook/English) | £14.97 | |
| Magic, Spells and Potions (Paperback/English) | £24.97 + p&p | |
Postage will be calculated on the next screen
Pay in a different currency...
<![CDATA[SN-INDEX-CLOSE]]>
Other
HypnoSolutions - Star Diamond: Overcoming Anxiety, Fear and Stress From The Inside Out by Silvia Hartmann ...
Very calming, very stabilising, and essentially healing the psycho-energetic reasons for anxiety, Star ...