<![CDATA[SN-INDEX-OPEN]]>
GoE Energy EFT Heart & Soul Fridge Magnet
<![CDATA[SN-INDEX-DISALLOW]]>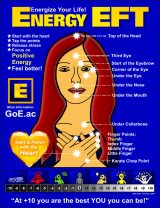 The Energy EFT Heart & Soul protocol is a simple and hugely effective tapping technique, and one that is highly recommended to all that love energy and tapping.
In a wonderfully a simple, colourful layout, these handy Energy EFT fridge magnets are perfect for giving out to clients, workshop students and friends.
High quality large Energy EFT Heart & Soul Protocol fridge magnet, created by Silvia Hartmann

Makes the perfect gift for workshop students, clients and friends.
Price £2.99 (including free UK shipping - contact us for international shipping)
Bulk Discounts -
Order 10+ magnets, save 33%!
Order 50+ magnets, save 50%!
NOTE - These new Energy EFT magnets will be available from June 10th 2016. Order now for immediate dispatch when they are in stock!
Purchase Options
Products

Price

There are currently no offers to be displayed
Pay in a different currency...
<![CDATA[SN-INDEX-CLOSE]]>
Other
EMO Energy Dancing 3: Positive Energy: Dance Your Dreams!
For the lovers of the unique EMO Energy Dance worldwide, here is the new, future focused, joy orientated ...