<![CDATA[SN-INDEX-OPEN]]>
Parenting with Heart & Soul: A Parent's Guide to Emotional Freedom with EFT
<![CDATA[SN-INDEX-DISALLOW]]>
Kelly Burch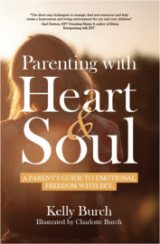 Parenting is hard. No one tells you that. You suddenly have a child in your care and it's up to you, sink or swim. Ever felt like it should be easier? Yeah, so did Kelly Burch.
In Parenting with Heart & Soul, Kelly combines her expertise as an energy healing practitioner and mother to produce something profound yet also easy to absorb and put into action.
"You basically want your children to recognise that you see, feel, know and love all that there is about them, including when they are not sunny.
I'm not always sunny and hope that I am still loved! Our kids want that too.
And maybe, when they are on their own, they will be as present and loving with themselves as we were to them."
– Kelly Burch
In a straightforward and down-to-earth way, Kelly explains concepts of the energy system and why that matters when it comes to the behaviour of children as well as us parents. She explains what emotions are and how to manage them in children.
As well as insightful and empowering knowledge, parents are going to love the part of the book which dives lovingly into common areas of difficulty and discusses respectful ways to approach them. Kelly talks about fears, anxieties, sleep, tantrums, and much more.
Kelly also includes super-easy energy tools that make light work of mum and dad feeling great, morning, noon and night, as well as tools to support the energy of the entire family. 
Kelly's open-hearted and relatable anecdotes along the way will remind you that wherever you are at, and whatever philosophies of parenting you subscribe to, there is always opportunity for parenting with your heart and soul.
"Parenting with Heart and Soul reveals an adaptable and relatable insight, taking you on a beautiful journey in which Kelly gently expresses her wisdom in a fresh, fun and lighthearted way. There are lots of practical ways to reduce stress, which is so important for modern parents, and your children can get involved in the process too."
- Merryn Padgett, Founder of Earth & Sea Creative
Purchase Options
Products

Price

There are currently no offers to be displayed
Pay in a different currency...
<![CDATA[SN-INDEX-CLOSE]]>
Other
Positive EFT: From Stress To Success: More ENERGY, More POWER, More LOVE. by Silvia Hartmann
Feeling better instantly and raising the energy you need for your life has become as easy as 1-2-3 ...