<![CDATA[SN-INDEX-OPEN]]>
Positive EFT: From Stress To Success: More ENERGY, More POWER, More LOVE.
Silvia Hartmann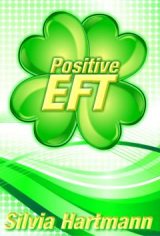 Feeling better instantly and raising the energy you need for your life has become as easy as 1-2-3 with Positive EFT.  Groundbreaking, revolutionary, future orientated, success orientated, clean, simple and so profound, this is the book you wish you'd had ten years ago.

Positive EFT was launched in 2013. To read the most updated version of Posititve Tapping please read Modern Energy Tapping by Silvia Hartmann
Digging around endlessly in the traumas of your past is not the answer to a happy life NOW.
By bringing POSITIVE energies into your energy body, you...
Completely transform the way you feel inside
Change your self concept from the ground up
Dissolve & wash away old energy blockages for good
Empower yourself ENORMOUSLY
Boost your immune system, health, vitality
Unlock your NATURAL intelligence, intuition & magic
Start to smile, come to life, feel good about yourself
Draw positive attention from others
Have so much more to give to those you love
Improve your X-Factor and start to SHINE.
Quick and easy to use in self help, ENORMOUSLY POWERFUL as an addition to your healing practice, Positive EFT is what the world needs, right now.
Positive EFT is also:
Perfect for working with children
A thoroughly enjoyable, easy introduction to EFT for those who have never used modern energy work before
Comes with instructions how to use Positive EFT with groups and teams
An essential resource for anyone working with EFT and the modern SUE Scale
This book doubles as a handouts manual for introduction evenings and day courses in Positive EFT.
"When people feel happier, they naturally become stronger.
"Our energy system is what makes us happy and what makes us feel sad.
"By giving the energy system essential nutrition, we can boost our batteries of life and have more power to deal with our daily life. We also become less needy and have more energy to give to others.
"Every person can feel better - and when they do, many problems will not seem so insurmountable any longer, others will disappear completely, and new opportunities to have a rich, interesting life become apparent.
"We can change the way we feel - and it has never been this easy, ever, as it is by using Positive EFT!"
Read what other people have said about Positive EFT
Positive EFT is not about "positive thinking."
Positive EFT makes you FEEL better.
And that makes all the difference in the world ...
From

Stress

To Success with 
Silvia Hartmann's
Positive EFT
More ENERGY. More POWER. More LOVE.
---
* Positive EFT is the perfect start in Modern Energy EFT for beginners.
* Positive EFT can be seamlessly integrated into any form of EFT, including Matrix tapping, Classic EFT and Faster EFT. 
Release the power of EFT to take YOU to YOUR next level in life!
Purchase Options
| Products | Price | |
| --- | --- | --- |
| Positive EFT (eBook/English) | £4.97 | |
| Positive EFT (Paperback/English) | £9.97 + p&p | |
Postage will be calculated on the next screen
Pay in a different currency...
<![CDATA[SN-INDEX-CLOSE]]>
Other
In Serein 1: Sorcerer & Apprentice
Young commoner Isca is determined to become a Serein magician so that she may take charge of her destiny ...