<![CDATA[SN-INDEX-OPEN]]>
The Journey Home: Instrumental Meditation Music
<![CDATA[SN-INDEX-DISALLOW]]>
Ananga Sivyer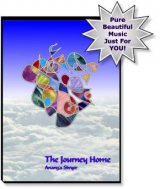 Ananga Sivyer's HoloDreams™ now available on high quality stereo audio CD. These original symphonic compositions from "Reise In Die Heimat", expanded and refined to bring you pure listening pleasure, any time, anywhere. This is an album of pure instrumental meditation music especially created to give you space into which your mind can flow and soar.
Titles similar to Journey Home have been moved to The GoE Members Library. Please visit here for more details
-
MEMBERS LIBRARY
Based upon original concepts by Silvia Hartmann, The Journey Home features the following original symphonic Sonic Solutions™ experiences:
Eagle
Wave Child
Flood
The Journey Home
The Morning
Future's Realms
Addictive, enchanting and totally delightful, this is a unique album of powerful meditation music that you will play again and again, and hear more, see more, feel more and experience more with every listening.
DragonRising Radio Show.mp3
Hosted by Alex Kent, the DragonRising Radio Show is your definitive guide to our magical Energy Meditation products.
Purchase Options
Products

Price

There are currently no offers to be displayed
Pay in a different currency...
<![CDATA[SN-INDEX-CLOSE]]>