<![CDATA[SN-INDEX-OPEN]]>
The Soul Pilots, Vol 1: Service Has Its Own Rewards
<![CDATA[SN-INDEX-DISALLOW]]>
Silvia Hartmann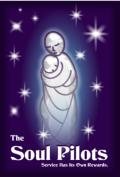 The Soul Pilots is an enchanting collection of Soul Pilotting stories written down by seven Project Sanctuary Masters and collated by Project Sanctuary developer Silvia Hartmann. Each of the 76 stories is truly unique and absolutely beautiful. Read on for more information about Soul Piloting.
As you walk around your town, your city, you see so many people.

There are so many people that rarely do we still really see who is there.

And it is true, a Soul Pilot does not wear a uniform, nor do they stand out in any way if you don't look too closely.

They may be very young, or very old.

They may be dressed in any way.

They may be men or women from many different cultures, different races, different places.

They may be beautiful or not; and some may even seem as though they are themselves in need of care.

Yet these people take it upon themselves to undertake an age old and quite secret service; one that has to be done by the living, for they are the only ones who can reach and touch the lost souls.

The angels and the higher beings cannot go where Soul Pilots travel; and it is true that many a lost soul will shy away from brighter light and try to hide in darkness.

Many others are trapped "in between" the many worlds and once again, they can't be reached by those who live exclusively in one world, or another; and many more don't even know that they are lost and would not, could not ask for help.

Thus it is that the only ones who can reach these lost souls are people who are still alive, yet travel across the veil and with a purpose, seek out the ones who need their help.

Soul Pilots, by the very virtue of their residence in physicality, are far from being perfect beings.

They are just people who have their troubles and have been marked by time and incident in many different ways; they are unique and being so unique, are of a certain frequency each one that not an angel or a higher being could convey — and thus they are the perfect resonance for those lost souls who are alike to them, who will not be afraid of them, who may be touched by them, and who may be saved by them and them alone.

It is the Soul Pilots' very own fl aws and the fact that they are still experiencing the tremendous challenges of life on Earth in physicality that allows them to reach the lost souls.

The Soul Pilots understand about suffering still, and about loneliness, about loss and heartache, and they know how diffi cult it is to navigate the many worlds, especially if one is ill prepared or tragedy has struck, as happens in so many ways.

It is their knowledge of suffering that makes the Soul Pilots effective; but more than that, it is their knowledge of suffering which makes them undertake these tasks in their own time and for no other reward than to know that they have assisted another in a most profound and most unusual way.

There are so many lost souls, still waiting in the voids.

As time goes by, they fade away, eventually they fade to nothing and all their times, all their

lives and their endeavours too will then be lost forever.

This is a loss to all and everyone; even if they don't know it, even if they don't believe in these things and even if they live their whole lives never thinking of such things at all.

Each soul that makes the journey to the next dimension of existence is a star.

Each star is light that shines upon us all; each one is precious, each unique, and numbers are irrelevant, for it takes many notes to make a song, in fact, it takes them all to make it right and perfect.

In this world today, there are a very few people who choose to travel across the veil.

Their purpose and their mission is to save lost souls.

They are the Soul Pilots.

And these are their stories...
The Wild Children
The Angry Old Man
Bundle of Rags
Soul Pilot's Journey
The Boy in the Mine
On Stormy Shores
The Heart of Stone
The Brothers
Who Are You?
The Little Old Lady
The Portal
The Hooded Figure
A Ghost In New York
The Angry Worm & the Runner
The Mists
The Red-Haired Woman and Her Unborn Child
Wild Worlds
The Dry Brown Being
On a Hill Outside Jerusalem
The Soldier & the Angel Child
The Mosaic
The Crying Creature
Circle of Crows
Amazing Grace
Hidden Beauty
Another World Beyond
Hiding in Plain Sight
My Mother Lives By the Sea
The Mad Giant
More of Who I Am
Sarah & the Dragons
The Lost Son
Henry
Don Juan & His Lovers
The Little Girl & the Two Ghosts
The Angels
Sparks
Alone
Lost In the Darklands
Morning Has Broken
White Being In a Space of Midnight Blue
The Boy on the Mountain
The Conduit
One Equals Infinity
The Alien by the Waterfall
The Escape
The Singing Bracelets
Two Babies
The Little Demon
On the Beach at Night
A Lost Mother
The Royal Birds
The Boy & the Lighthouse
The Sailor & the Sea
Raindrops on My Window
The Clinging Dead
Sidhe Encounter
Seven Alien Souls
The Necklace
By Nature
The Honeycomb Being
The Waiting Angels
The Prince
Star Child Blessing
The Black Demon Sword
Violet Eyes
The Girl in the Night Club
A Lost Soul
Beauty's Curse
The Crystalline Soul Raft
Like A Bird
Traveling To the Stars
Hidden
Soul Pilot's Prayer
The Fossilized Souls
A Different Kind Of Light
The Soul Pilots (Demonstration).pdf
"The Soul Pilots" by Silvia Hartmann, Nicola Quinn, Debora Ready, Sue Bellworthy, Margarita Foley, Joel Gruber & Detlev Tesch is a truly unique and touching book, containing 76 beautiful stories derived from Silvia Hartmann's Project Sanctuary process. If you are curious about Soul Piloting then we have created an excellent demo for you now available for free download. It contains an introduction to Soul Piloting, full Soul Piloting stories, background information about the Soul Pilots and further information about Project Sanctuary.
Purchase Options
Products

Price

There are currently no offers to be displayed
Pay in a different currency...
<![CDATA[SN-INDEX-CLOSE]]>