<![CDATA[SN-INDEX-OPEN]]>
Vampire Solstice: Love Forever ...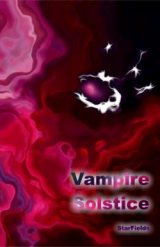 Fantasy Fiction by StarFields. For the Vampire community, the Solstice Choosing has been the holiest night of the year - for a hundred thousand years. But this year, something new is about to happen. The oldest prophecies are about to be fulfilled - and the Festival of Blessings is finally upon us.
Altar Ego Track 7 Fire Singing by Silvia Hartmann.mp3
Magic Music MP3 - Track 7 from "Altar Ego" music album, the soundtrack accompanying "Vampire Solstice". Fire Singing music mp3, 3.44 min, 5.3mb. The complete album "Altar Ego" with a total of 13 original compositions by StarFields is available now.
Purchase Options
| Products | Price | |
| --- | --- | --- |
| Vampire Solstice (eBook/English) | £4.97 | |
Pay in a different currency...
<![CDATA[SN-INDEX-CLOSE]]>
Other
Star Matrix: Discover the true TREASURES & RICHES of YOUR LIFE! by Silvia Hartmann
It is as simple as it is groundbreaking! Re-connect with the best moments of YOUR life, your Star Memories. ...