<![CDATA[SN-INDEX-OPEN]]>
EMO Energy Dancing 2: The Sacred Horse: EmoTrance Energy Self Healing With The Power Of Movement, Music & Dance: Primal Energy!
Silvia Hartmann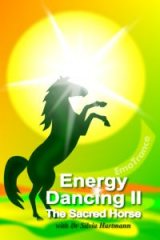 Experience the magic of dance and find profound relief, release, new energy flow, new ideas and bright young feelings and sensations for your mind, your body, and your energy body with this brilliant energy dancing program from the acclaimed Energy Dancing series, created by Silvia Hartmann.
This acclaimed program contains a complete instruction course in Energy Dancing by Silvia Hartmann, PLUS a bonus album featuring all the "trance dance" energy dancing music you can play at any time.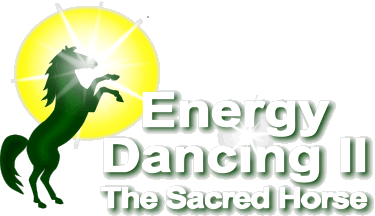 Energy Dancing II
The Sacred Horse
Created by Silvia Hartmann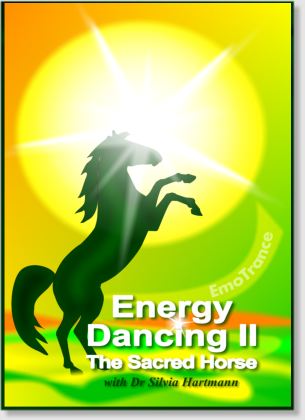 Use the pure MAGIC of dance to
relieve stress - instantly!
remove blockages to joy and success
re-energize & rejuvenate your self
experience new sensations
improve your energy flow
bring life to all parts of your body
wake up your systems across the board
get new ideas and TONS of motivation
more energy, more more movement ...
... more JOY for Life!
Advanced And Truly Magical Energy Work Made Easy:
This is Energy Dancing!
Developed and Created by Silvia Hartmann, Energy Dancing is a truly delightful process that is DESIGNED for people who want to be really alive - and enjoying this incarnation!
Amazing: SO Easy & DELIGHTFULLY Simple:
You won't believe how much EASIER it is to work with energy whilst you are moving your body and engaging with YOUR OWN energy system directly!
Totally PERSONAL To YOU:
YOU are working with your energy system in REAL TIME, on YOUR OWN issues and existing problems, directly and absolutely.
Astonishing: The Revelation Of The Body Mind In Action:
In Energy Dancing, our OWN BODY mind kicks into action and you can FEEL the support YOUR OWN MOVEMENTS will bring to YOUR HEALING PROCESSES - it is truly astonishing and so delightful to find out that your own body KNOWS how to help you heal!
Delightful REAL Self Help: You'll want to do this again, and again!
Even if you have struggled with energy work and hypnosis in the past, this is SO EASY and SO INSTANTLY EFFECTIVE, you'll just love the feelings and you'll want to do it again, and again!
Brilliant Results: Feel Better, Think More Clearly - Put A Smile On your Face!
Energy Dancing is the most powerful way to INSTANTLY re-energize, change state, start feeling more alive and it is just extraordinary how changes in your energy system lead straight to better thinking, better decisions - a better life!
Unlike standard meditations or energy "drills" (ugh!)
Energy Dancing is FUN*
And It Makes YOU Feel SO GOOD!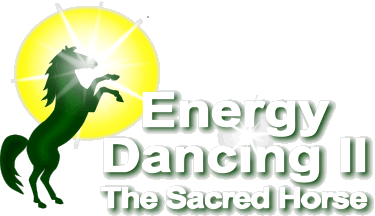 Created by Silvia Hartmann
This truly exciting programme contains:
| | |
| --- | --- |
| | A concise "Welcome" and brief reminder of the basic principles of Energy Dancing; |
| | The first session, Zero, which is designed to start EXACTLY from where you really are, and then ... |
| | A further SIX excellent Energy Dancing sessions follow, each one with instructions and guidance, each one calling on very different parts of the energy system to give you a wide variety of experiences and opportunities to work with your own issues, blockages, shields and reversals to get YOUR energy system into flow and your whole self sparkling, re-freshed, de-stressed and rejuvenated all over! |
On "The Sacred Horse" you will find SEVEN Complete, Brand NEW Sessions For YOU:

Session 1:
Zero
The very best place to start to get the very best results is always with WHERE WE ARE, RIGHT HERE AND NOW. No need to feel energetic, or enlightened - Zero takes you from EXACTLY where you are and lifts you, raises you and gives you the perfect opportunity to free yourself from whatever is holding you back right in the instant you put the track into action.

Session 2:
Finding The Rhythm
We all have some things, aspects, areas in our lives where we're not exactly in "Even Flow" - things that irritate or anger us, situations where we feel disconnected or out of touch, even intellectual concepts that we can't seem to grasp. All these are examples of areas in our lives where we are not in the flow, where we haven't found the rhythm that makes things easy and delightful. This very special Energy Dancing track, featuring an a-rhythmic drum beat that slowly moves into resolution as we dance, is an excellent device for us to use to "get into the groove" on any topic of our choice.

Session 3:
Forgiveness
Forgiveness is a very specific energy movement where we dissolve a blockage and complete a process that got stuck sometimes many years ago. Forgiveness is a skill in energy! And all forgiveness starts with SELF FORGIVENESS. In this moving and outstanding experience, we get to work with issues where we haven't forgiven ourselves and bring this process to a purely energetic and entirely delightful conclusion. As an extra benefit, when the movement of forgiveness has been discovered and learned, you are not just freeing up your past, but all of your future too - now, we can learn our lessons and GO FORWARD without fear.

Session 4:
Bless The Garden
Simply a delightful experience of natural healing, recharging and restoration - walk in a beautiful garden, drop shields and draw the energies of nature powerfully into your own systems. As energy must flow, in turn, you bless the garden as the energy rushes through you and you become a fountain in this fantastic pure energy dancing experience. Highly recommended!

Session 5:
The Sacred Horse
The Sacred Horse is the metaphor for the body, that which carries our immortal soul through this incarnation. In this celebration of the The Sacred Horse, we get to work with reversals and blocks to experiencing and loving our own bodies, and to come to a whole new level of co-operation and mutual delight across the levels and systems. A beautiful, powerful and HIGHLY energizing experience.

Session 6:
The Fire Dance
The Fire Dance is a very, very primal and ancient activity, something that humankind has engaged in since time immemorial - to express our deepest desires, aims, and our identity, and to dance for the Gods and the World to tell them who we are through dance and expression. Extremely powerful, extremely moving, and wonderfully freeing and uplifting, The Fire Dance is a transformative personal experience like no other.

Session 7:
Lightwater
To conclude this extreme energy workout, we take a dip in a pool of pure lightwater - simply relax, breathe deeply, and let the blessings of the lightwater enter into all your systems, refreshing, recharging, soothing, re-hydrating, and sparkling you all over. A perfect conclusion to this outstanding program and an energy dancing experience to repeat again, and again!
When you purchase this OUTSTANDING program, you will also receive: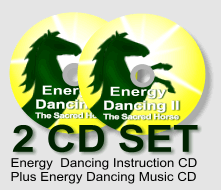 The ORIGINAL Energy Dancing Music
From EDII - The Sacred Horse
written & created by Silvia Hartmann
As well as the outstanding original NEW Energy Dancing II program, you will also receive the complete special Energy Dancing Music Album for The Sacred Horse, EDII - to play in your car, while you work, on your phone, or at any time you need to improve your energy flow, concentration and overall energy levels. A GREAT addition to any active listening collection!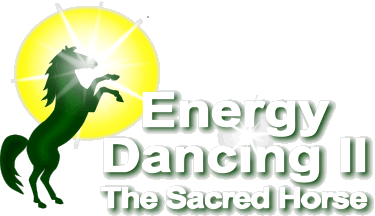 Created by Silvia Hartmann
Fabulous Experiences, FANTASTIC Value For Money.
EXTREMELY Beneficial For Mind, Body and Spirit.
De-Stressing, Revitalising, Clearing and HEALTHY.
POWERFUL Self Healing Made DELIGHTFULLY EASY.
Created by Silvia Hartmann
DragonRising Radio Show.mp3
Hosted by Alex Kent, the DragonRising Radio Show is your definitive guide to our magical Energy Meditation products.
Purchase Options
| Products | Price | |
| --- | --- | --- |
| EMO Energy Dancing 2: The Sacred Horse (Audio Download/English) | £29.95 | |
Pay in a different currency...
<![CDATA[SN-INDEX-CLOSE]]>
Other
The Genius Symbols, 2nd Edition: Your Portal to Creativity, Imagination and Innovation by Silvia Hartmann
Silvia Hartmann defines what it means to be a true genius and proposes that this is a basic human right, ...