<![CDATA[SN-INDEX-OPEN]]>
Finding the River - Guided Meditations & Healing Techniques
<![CDATA[SN-INDEX-DISALLOW]]>
Sally Topham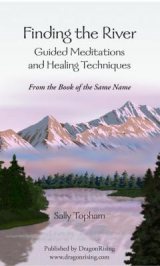 Meditation is a perfectly natural practice. You've almost certainly experienced the peace that comes from contemplating a beautiful view or sunset, stroking your cat, or feeling the warm sun on your body as you listen to waves lapping on the shore.  That's a form of meditation.
This series of guided meditations and healing techniques inspired by the Finding the River book is designed to ease the chatter of the mind and help us relax into a more tranquil space within ourselves.
Finding the River has been moved to The GoE Members Library. Please visit here for more details
-
MEMBERS LIBRARY
Track details
Each of these tracks will help you learn different techniques that will help you to relax, feel calmer and take yourself to a place of healing.
Track 1: Following the Breath 24:03
Leads you through a complete meditation practice with the simple technique of breath awareness. Regular practice will help you to improve your ability to meditate, let go of mental chatter and find calm and peace within.
Track 2: The Connection 13:16
A wonderful way of feeling a sense of connection and belonging in the great scheme of things by focussing on the wonder and awe of Nature, helping to eliminate feelings of isolation and evoking a powerful feeling of alignment and oneness with the Universe. The directions in the first part of this track will help you ground your energy by extending strings of invisible energy down from the base of your torso into the Earth. You can also use the directions to imagine those strings of energy moving down your legs, into your feet and down into the Earth.
Track 3: The Flame 12:00
This meditation assists you in balancing each of your Chakras, bringing great healing to all levels of your being.
Track 4: The Blue Mist 17:44
This is a beautifully simple visualisation exercise to give yourself total relaxation and healing.
Finding The River creator Sally Topham writes

Have you noticed there's a relentlessly manic undercurrent in all our lives which forces us to try to do everything as quickly as possible these days? Perhaps you've noticed that time seems to move incredibly fast and that you don't know where the day has gone? Well, you're not the only person experiencing this because a lot of other people, from teenagers to seniors, are all saying the same thing!
There's no doubt that in the West we live in a very speedy culture. Not only do we have fast food, day-trips to other countries for business meetings and extraordinary trends such as speed-dating, but there are also pressures like the ever-increasing demands of impossible deadlines that involve longer working hours. Within this frantic pace, the media bombards us daily with an endless stream of information and images, and technology adds to the pressure by providing instant accessibility from all sides with emails, internet and mobile phones, etc.
All this causes an enormous amount of stress—a factor that is humming in the background of most people's lives on a daily basis. Medical research has found that over 90% of all illness and disease is caused by stress.
A great deal of research is being carried out that focuses on the connection between the brain, the nervous system, the immune system and stress. This particular field of study is called Psychoneuroimmunology (PNI), which is now at the cutting edge of scientific investigation. PNI confirms that the way we think affects the body by sending messages through the nerves, hormones and immune system and therefore affects our health and well-being.
Studies conducted into the effects of meditation have produced thousands of scientific papers on the benefits it can bring to general health and well being. Experiments have shown that setting aside a short period each day for meditation can have favourable effects on stress-related problems such as high blood pressure, heart problems, poor immune system function, depression and general anxiety, and that it has proven effective in lowering cholesterol and reducing chronic pain. Additionally, recent research has shown that parts of the brain grow thicker with meditation. This leads to hopes that daily meditation practice can prevent the loss of brain tissue that usually comes with ageing.
Meditation is a completely natural practice. Have you ever experienced the peace that comes from contemplating a beautiful view or sunset, stroking your cat, or feeling the warm sun on your body as you listen to waves lapping on the shore? That's a form of meditation. That's what happens when you sink into a relaxed and pleasurable focus on something. The chatter of the mind begins to stop and you ease into a more tranquil space within yourself.
Meditation isn't difficult to do, especially when you've got someone to guide you through the practise. That's why I decided to create this CD. So many of my clients and students who have taken meditation lessons from me have said that it really helps to be led through the techniques.
So, if you've been wishing you could find a way to press the 'pause' button and give yourself a little oasis of tranquillity from the madness all around you, meditation can help you. It's a wonderful antidote to the roller-coaster effect of stress in our lives. 

About The Author: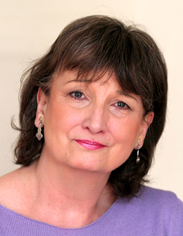 Originally trained as an actress, Sally spent a number of years working professionally in regional theatre, as well as radio, film and television. Her interest in alternative therapy and personal and spiritual development ran in tandem with her theatrical career and gradually led her towards a personal journey of self-discovery. Sally is qualified as a Reiki Master/Practitioner, an Advanced EFT Practitioner, an EmoTrance Practitioner, an Endorphin Technique Practitioner, and has a private practice in North West London. She also teaches meditation to beginners.

Sally is passionate about the work she does, deeply interested in the people she is privileged to work with and committed to using her healing skills with integrity.
Finding the River has been moved to The GoE Members Library. Please visit here for more details
-
MEMBERS LIBRARY
Purchase Options
Products

Price

There are currently no offers to be displayed
Pay in a different currency...
<![CDATA[SN-INDEX-CLOSE]]>