<![CDATA[SN-INDEX-OPEN]]>
In Serein 1: Sorcerer & Apprentice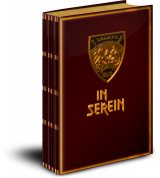 Young commoner Isca is determined to become a Serein magician so that she may take charge of her destiny and no longer remain a victim to the circumstances of her birth and the oppressors of her world. She is apprenticed to the only master strong enough to control her, the immortal Lord Lucian Tremain, acting Lord of Darkness. In the conjunction between Lord Lucian's ancient powers and Isca's unprecedented talents, a force is born that can take the stars from the sky - but only if they can learn to survive one another.
Purchase the In Serein Trilogy eBook set and you'll receive all three books in both PDF & ePub format - perfect for reading on screen, printing out as well as uploading to your Kindles, iPads and e-readers
Masterful Hypnotic Fantasy Fiction By Silvia Hartmann ...
In Serein is a hypnotic and spellbinding novel of adult themes which takes the reader deep into the heart of power, control, magic, love and logic.
At the centre of the story lies the dark romance between a 14 year old virgin, Isca, and the ancient immortal Lord of Darkness, Lucian Tremain. As each begins to discover their unique weapons of powerful magic which arises not from the use of artefacts, but from within the wellsprings of their own beings, their actions threaten the dominion of the ruling secret order of priest-magicians who set out to destroy them both.

Merged against their will to a single timeless fate, Isca and Lord Lucian have to fight the Serein, the demons of their own past and of each others for their lives, for their sanity, their soul and their redemption.

Victim and torturer, master and slave, saviour and destroyer, sourcerer and apprentice - each must become all or far more than just their own lives will be lost forever.


Trilogy Details:
Book 1: Of Sorcerers & Apprentices
Purchase Options
| Products | Price | |
| --- | --- | --- |
| In Serein 1: Sorcerer & Apprentice (eBook/English) | £4.97 | |
Pay in a different currency...
<![CDATA[SN-INDEX-CLOSE]]>