<![CDATA[SN-INDEX-OPEN]]>
Life Without Panic Attacks: Reclaim Your Emotional Freedom, Reclaim Your Life
<![CDATA[SN-INDEX-DISALLOW]]>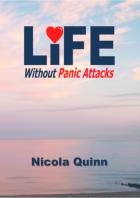 In this excellent manual, Energy Therapies trainer Nicola Quinn chronicles the exact steps she took to free herself from disabling panic attacks using Emotional Freedom Techniques in self help - when it is needed the most. Personal and in depth, this outstanding self help manual is highly recommended for all sufferers of anxiety and panic attacks, as well as for their loved ones and professionals who treat anxiety sufferers.
Table of Contents:
TABLE OF CONTENTS
INTRODUCTION
FOREWORD
WELCOME TO LIFE WITHOUT PANIC ATTACKS!
HOW I CURED MYSELF OF PANIC ATTACKS
Nowhere To Turn
Discovering EFT
Tapping On Physical Sensations
Thinking About Doing It…
Going Out
Covering the Bases
Basic EFT Anxiety Protocol - Step by Step
THE COMPLETE EMOTIONAL FREEDOM TECHNIQUES PROTOCOL
The EFT Treatment Points
Getting Started
Contacting the Problem
The Set Up
Taking a SUDs Reading
The Round
The 9 Gamut
Feedback
STEP ONE – PREPARING TO GO OUT
Emergency Stop Point
Calming Points
STEP TWO – GOING OUT
Touch and Breath
STEP THREE - CHALLENGING YOURSELF
LOSS OF LIFE
IT'S ONLY AN ADRENALINE ALLERGY!
DAILY SYMPTOMS AND HOW TO DEAL WITH THEM
CLEARING THE WORST PANIC ATTACKS FROM THE PAST
GETTING TO KNOW YOURSELF
SELF ESTEEM
AVOIDING DECISIONS
FEAR OF CONFRONTATION
SPECIAL CIRCUMSTANCES
Panic in Bed
Panic in the Bath
Panic on a Plane
Panic in a Lift
TREATING THE FEAR OF FUTURE PANICS
MORE TIPS AND USEFUL TECHNIQUES
EMOTRANCE
Simple EmoTrance Demonstration
When To Use EmoTrance
The Power of Self Forgiveness
Three EmoTrance Exercises
Learning To Follow With Intention
Emotional Healing Exercise
Feasting On Energy
BREATHING
Why Bad Breathing Causes Anxiety and Panic Attacks
Symptoms of Shallow Breathing and Hyperventilation
How To Breathe Abdominally
How to Slow Your Breathing Right Down
Retraining Your Breathing to Overcome Anxiety and Panic Attacks
Checklist to Stop Anxiety and Panic Attacks with Your Breathing
ESSENTIAL OILS
ADRENALINE STOP
UPDATE
DOLPHINS HAVE TEETH!
EFT for the Traumas but EmoTrance for the Good Stuff
EMOTRANCE AND MY ARCTIC ADVENTURE
FORWARD TO THE NEW!
ADDENDA
GUIDANCE FOR THERAPISTS
HOW TO HELP A LOVED ONE WHO SUFFERS FROM ANXIETY & PANIC ATTACKS
YOUR Fear
1 Fear of Insanity
2 YOUR Traumatic Memories
3 Understanding The Effects Of Stress & Anxiety
First Aid Procedures
1 Be CALM & Steady
2 Reduce Stress
3 Direct, Focused Instructions
4 Breathing
5 Food & Drink
Long Term Focus
ACKNOWLEDGMENT AND THANKS
FURTHER READING
ABOUT NICOLA QUINN
Books and Papers
Recordings
Trainings and Presentations
BE CALM NOW CHECKLIST
Nicola Quinn, author writes:
This book is a personal triumph, not only in terms of outlining exactly how I overcame panic attacks using EFT but in the actual writing of the book itself which brought up so many issues I thought I had dealt with but now I really have and am fully recovered.

I really believe in this book and on looking through it once again realise just how valuable a work it is for individuals who suffer as I did and professionals alike who treat sufferers, because unless you know exactly what it is like to suffer from panic attacks you cannot begin to know how to deal with them and their many aspects.

It's all very well people telling you to 'go with the fear', 'lean into it', 'don't be scared of it', if we could do that we wouldn't be having panic attacks in the first place!

My book tells you not just what to do but HOW to do it.

I am by no means a brave person but I can honestly say that if I can do it YOU can too.

Nicola Quinn
Purchase Options
Products

Price

There are currently no offers to be displayed
Pay in a different currency...
<![CDATA[SN-INDEX-CLOSE]]>