<![CDATA[SN-INDEX-OPEN]]>
HypnoDreams 3: Freedom! Modern Energy Meditations
Silvia Hartmann & Ananga Sivyer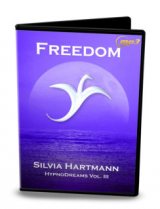 HypnoDreams 3 - "Freedom" is powerfully uplifting, intensely inspiring and absolutely beautiful. Created by Silvia Hartmann for the Modern Energist to evolve in mind, body and spirit, and to go forward into the future with lightness, certainty and in joy.



HypnoDreams 3: Freedom!
Beyond mere peace, there lies a new life - forward to the new!
Freedom is about dance, about creativity and about forward movement. A superbly multi-level celebration of life in splendid textures and experiences, Freedom's outstanding, mind blowing Modern Energy Meditations are real masterpieces of psycho-energetic reconnection and alignment.
FREEDOM contains the following fantastic experiences:
The Wind Of Change
Freedom
Creativity
Timelines
Our Dimensions
Precious
Forward To The New
These guided Modern Energy Meditations are the culmination of the original HypnoDreams Trilogy - extremely advanced energy work at the multi-level, using metasong, paranormal poetic languaging like you've never experienced before and sonic tapestries that are both alien and familar.
For beginners in Modern Energy Meditations, we recommend to start with
Followed by
DragonRising Radio Show.mp3
Hosted by Alex Kent, the DragonRising Radio Show is your definitive guide to our magical Energy Meditation products.
Our Dimensions - HypnoDreams Scripts Ebook.pdf
This fabulous free ebook contains the complete energy hypnosis scripts of every track in the entire HypnoDreams trilogy. For students of energy hypnosis, NLP hypnosis and hypnotherapy, this is a real treasure trove of hypnotic journeys, fantastic internal representations, pacing and energy evocation.
The Wind of Change HypnoDream by Hartmann and Sivyer - Free Full-Length Energy Hypnosis.mp3
Free Quality Energy Hypnosis MP3 - Creating Desire For Change. The Winds Of Change from HypnoDreams Vol. 3, Freedom.
Purchase Options
| Products | Price | |
| --- | --- | --- |
| HypnoDreams 3 (Audio Download/English) | £29.95 | |
Pay in a different currency...
<![CDATA[SN-INDEX-CLOSE]]>
Other
GoE Big Ted A4 Tapping Sheets
If you love BIG Ted's Guide to Tapping, you'll love our new A4 Big Ted 'Magic Tapping' sheets. These ...