<![CDATA[SN-INDEX-OPEN]]>
Easy EFT with Silvia Hartmann
<![CDATA[SN-INDEX-DISALLOW]]>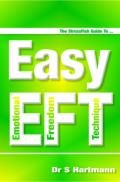 Easy EFT by Silvia Hartmann is written to be the perfect introduction for beginners, but also has the effect of making seasoned professionals fall in love with the technique all over again!
Hartmann's unique easy-to-read and fun writing style allows all readers of any age to pick up and learn the basics of what is often described as the "wonder technique".
Easy EFT will teach you all this and more…
EFT: A Quick Overview
How Does EFT Work?
The Opening Statement
Does EFT Cure Everything?
How To Do Easy EFT In 7 Easy Steps
Where are the Easy EFT Treatment Points?
The Top Ten Tapping Tips
Meridian Massage!
Talking AND Tapping
EFT Warmup Exercises
101 Opening Statements For You!
Top Tapping Tips for Self-Helpers
Silvia Hartmann is the author behind previous best-selling EFT books "Adventures in EFT" and "The Advanced Patterns of EFT".
Hartmann is a truly original innovator and International lecturer on EFT, EmoTrance and Energy Psychology. Her only confirmed date this year is 13th/14th November where she will be headlining at the European EFT & Energy Psychology Conference in the United Kingdom.
Hartmann's presentation is going to be based on her latest research into "Events Psychology" which alongside her 1-day workshop (15th November - http://bit.ly/aDcnyn) is expected to be one of the highlights.
Purchase Options
Products

Price

There are currently no offers to be displayed
Pay in a different currency...
<![CDATA[SN-INDEX-CLOSE]]>