<![CDATA[SN-INDEX-OPEN]]>
Adventures in EFT: Your Essential Guide to Emotional Freedom
<![CDATA[SN-INDEX-DISALLOW]]>
Silvia Hartmann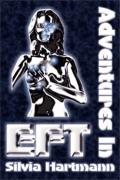 Learn and understand EFT with this practical and information packed manual that includes the A-Z of EFT applications and how to use this wonderful technique with a wide variety of problems. Treat yourself for sadness, anger, addictions, low self esteem and a whole lot more! Adventures In EFT is the World's best selling guide for beginners in Gary Craig's Emotional Freedom Techniques (EFT).
This book is no longer available as it has been replaced by Classic EFT
Now in its sixth fully updated, enlarged and revised edition, 'Adventures' does not require any previous knowledge of healing, counselling, psychology or human health or changework at all - anyone who can read can pick up this book and start to make their lives feel a whole lot better, right away.

Yet, in spite of 'Adventures' easy to read, friendly and informative style, all the base patterns of EFT are here - modelled on Gary Craig himself and with additional modelling from the leading EFT therapists of the world, Adventures is also a fine handbook for any healer or counsellor wishing to begin to make use of the extraordinary powers of EFT to make profound changes in people's lives.

Sparkling with ideas, enthusiasm and lively suggestions for how to take the Classic EFT protocols and make them come to life for you.
The Guild of Energists (GoE) has bundled together four seminal works on the field by Hartmann, including the best-selling Adventures In EFT, the original book on EFT, into one extensive volume, Classic EFT, which takes the reader right the way from beginner, to advanced practitioner levels.
Adventures in EFT (v4.2 DEMO) by Silvia Hartmann.pdf
This is the fully functional demo of the World's best selling EFT Book, 'Adventures in EFT' by Silvia Hartmann and includes everything to get you started with EFT - the COMPLETE protocol, diagrams, instructions, explanations and frequently asked questions. This demo contains the opening chapters of version 4.2. The current version on sale is V6.0 and includes many new additions, especially in the 'A-Z uses of EFT' section.

Adventures in EFT has been superseded by Energy EFT by Silvia Hartmann. To download the demonstration copy visit:
Energised EFT with Hartmann & Hillawi.mp3
Silvia Hartmann, Author of The Advanced Patterns Of EFT and Sandra Hillawi, International EFT & MET Trainer, discuss a new concept and additional techniques - Energized EFT, a method to improve the success of EFT treatments beyond the "Zero Joy" point, to test EFT treatments, and to avoid problems such as the Apex effect. This is a 20 minute free audio MP3 download.
Purchase Options
Products

Price

There are currently no offers to be displayed
Pay in a different currency...
<![CDATA[SN-INDEX-CLOSE]]>