<![CDATA[SN-INDEX-OPEN]]>
HypnoSpecials
SuperGoals: Set A Goal - Heart & Soul!
This unique Energy Hypnosis goal setting session, created by Silvia Hartmann, gets us aligned and into contact with most if not all of ourself, and from there, a new form of goal emerges - a SuperGoal, something that is truly important and agreed on by the many aspects of a person, including their heart's desires and their highest path and purpose.
Many Lives In The Multiverse: Past Life Regression - And BEYOND!
Past Life Regression has always been about THIS LIFE, and how other lives and their experiences are influencing what is happening FOR YOU TODAY.

In this fabulous guided energy hypnosis meditation session, Goe President Silvia Hartmann takes you beyond mere "past" lives and lets you connect with ANY life that needs your attention, right here, right now. Past lives, alternate lives, even potentially future lives can have an influence because in the ENERGY dimensions, ALL TIME IS AS ONE.
HypnoSpecial - The Money River Energy Hypnosis: Release YOUR Money Stress, Dissolve Blocks To Success and Step Into YOUR Money River
Silvia Hartmann's beautiful and powerful Energy Hypnosis Program "The Money River" helps us to release painful money stress, find relief from burdens of responsibility and fear of the future, dissolve blockages to success and gives us energy to stay focussed and achieve the life we desire.
Inner Child Healing Meditation: The Child In The Meadow
This beautiful guided inner child meditation created by Silvia Hartmann will enchant you, delight you, enliven you and bring back "the spirit of the child" that has so much power to transform the way we live and experience life today.
Stress Hypnosis: Stress Relief Plus: Release 3 Levels of Stress Fast, Easily & Profoundly, Rise Above And Go HIGHER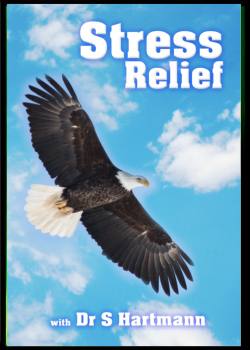 De-Stress fast, easily and profoundly - 3 Levels Of Stress Relief - Stress Hypnosis that takes you HIGHER - Learn the movement of consciousness to rise above stress - With practise, you will be able to move out of stress and into clarity "in the field" as and when required - Practical,  time saving 15 minute session length so you can de-stress and clarify your mind at any time, anywhere. Keep this in your First Aid cupboard and use it often, and regularly to remove daily stress and old stress accumulations you might have acquired over time.
Confidence
"Confidence" by Silvia Hartmann is a beautifully crafted HypnoSpecial which works on many levels to increase your inner and outer confidence thus helping you get ready to take on any challenge or goal you set your mind to.
Both the instant MP3 download and audio CD come with two versions of the induction which works with very different parts of your energy mind. Each format also come with the full transcript as a PDF download which is included for all who are interested in hypnotic language.
Purchase Options
| Products | Price | |
| --- | --- | --- |
| Confidence (Audio Download/English) | £9.97 | |

Back to Store | Affiliate Program & Quantity Discounts | View Basket
<![CDATA[SN-INDEX-CLOSE]]>